More attendees than ever came to the Diversity Achievement Awards on May 28th in Wille Hall in the Campus Center. The award honors students and faculty from all backgrounds and walks of life who have made a difference in the community of Central Oregon Community College, according to Karen Roth, multicultural director.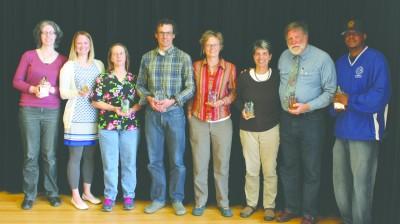 Roth presented the award to Teryl Young, who is involved with the African American Heritage club (formerly known as the Black Student Union club) and is an active member organizing events to educate the campus about the contributions of African American inventors.
The award was also given to the Safe Zone Training Team, composed of Carolyn Esky, Jim Foster, Owen Murphy, Chris Rubio, Jessie Russell, Emily Smith and Taran Smith. The team's "Safe Zone" program provides places on campus for members of the LGBTQ community who seek information, resources, and support.
Lastly, Roth presented the award to Oregon State University-Cascades faculty member Dr. Elizabeth Daniels. Daniels has been a member of the OSU-Cascades Diversity Committee for the past three years and has helped increase the campus efforts to educate the value of diversity.