The basketball world came to a standstill with 10.9 seconds remaining in the third quarter of the Los Angeles Lakers battle against the Oklahoma City Thunder. There was pure bedlam from the Laker faithful in the Crypto.com Arena following a historic shot that broke one of basketballs oldest–and once thought to be unbreakable–records.
"LEBRON STANDS ALONE!" NBA on TNT commentator Brian Anderson said while LeBron jogged up the court, hands reached to the sky with a smile on his face, as he comprehended possibly the biggest moment of his 20 year NBA career. He had just drilled a fadeaway shot that gave him 38,388 career points, passing legendary Lakers and Bucks center Kareem Abdul-Jabbar's 39 year old scoring record.
The stands were packed with celebrities, enough to give the Grammys ceremony held in the same arena two days prior some competition. From Jay-Z to Denzel Washington, old teammates such as Dwyane Wade and Richard Jefferson, and even Kareem Abdul-Jabbar himself, seemingly the entire country had their eyes glued to LeBron as he continued to prove himself for the 38,388th time. LeBron's family was also in attendance, and he embraced them at center court following the stoppage of the game to announce his record.
The world has never seen an athlete like LeBron James. A high school kid with the weight of the world on his shoulders exceeded even the craziest expectations, and 20 years later continues to weave together one of the most incredible careers in all of sports. And yet, what LeBron does off the court makes the biggest impact.
Throughout sports history, there have been many iconic players who broke down barriers that stood in the way of equality in their sports. Jackie Robinson, Muhammad Ali, Jim Brown, Bill Russell, Jesse Owens and Kareem Abdul-Jabbar himself have all had lasting impacts on the sports world because of their bravery and courage in the face of unimaginable odds and scrutiny.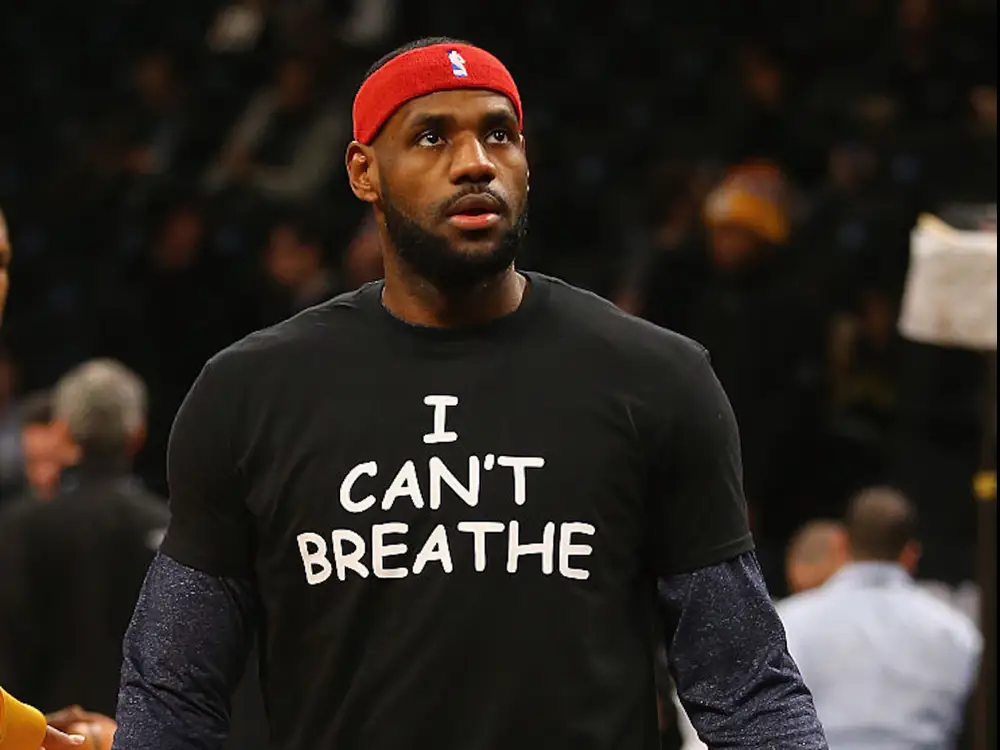 To this newer generation of athletes, LeBron is their Bill Russell or their Kareem. LeBron is the face of a new wave, a wave of athletes that won't "shut up and dribble." Just like the influential sports figures from decades past, this new generation of sports activists have fought for a more equal country and world one step at a time. He may not have sacrificed his career like Ali or Colin Kaepernick, but a man with his following and influence can move mountains with his actions and words.
For LeBron, it's always been about being more than an athlete. As hard as LeBron works to be the best in basketball, he works even harder to be a strong voice for the black community that he feels a responsibility to represent.
"Hopefully, some day down the line, people will recognize me not only for the way I approached the game of basketball, but the way I approached life as an African American man," he told the New York Times in 2020.
On top of using his platform to call out injustices, LeBron is also very generous and charitable. He's donated more than $100 million through the LeBron James Family Foundation which provides housing and education to those in need. He contributes to charity organizations such as ONExONE and the Children's Defense Fund, which provides water, food and education to kids around the world.
LeBron built a school in his hometown of Akron, Ohio, called the I Promise school, which took a new approach to public schooling by helping at-risk children with free education and future college opportunities. More information about the IPS mission can be found at https://www.lebronjamesfamilyfoundation.org/i-promise-school/.
LeBron never let the fame get to his head. He never forgot the small town in Ohio that he came from. He balanced the expectations of being the next Michael Jordan with his family life and used his platform to defend what he believes in when he could've stayed silent.
He brought hope to Cleveland, became the villain in Miami where he won two championships and came back to Cleveland to win his city their first. He went to Los Angeles, became a movie star, won a championship in the middle of a global pandemic, then broke the all-time scoring record at 38 years old. He's averaging 30.2 points per game in his 20th season, the third most he's ever averaged in his career. His next goal is to play in the league with his son, maybe even both since he's shown no signs of slowing down.
Whether it be activism, his charitable work or bad Warner Bros sequel roles, LeBron will be looked back on as so much more than a basketball player when his playing career concludes (if that ever happens; he might still be an all-star at age 60). The scoring record is the latest addition to a perfect story; the man who stands alone from his peers as a person and a player, the kid from Akron who changed the world.