Christian Burkert / The Broadside
Party mix is a great way to make a savory snack out of things you might already have around the kitchen. The ingredients in this recipe are some of the more popular options, but many different types of cereals, crackers and nuts would work well.  
Makes 12 cups of snack mix
Total cost: $3.48
Ingredients:
1 stick butter ($.83)
1.5 tablespoons seasoning salt 
1 tablespoon garlic powder 
1/3 cup Worcestershire sauce ($.05)
8 cups Chex type cereal ($.50)
1 cup rye chips ($..50)
1 cup cheese crackers. Goldfish or Cheez-its work great ($.50)
1 cup dry roasted peanuts ($.85)
1 cup pretzels ($.25)
Instructions
Gather and prep ingredients. 
Pre-heat oven to 275. Melt the butter over low heat in a saucepan. Once melted, add the seasoned salt, garlic and Worcestershire sauce and stir to combine.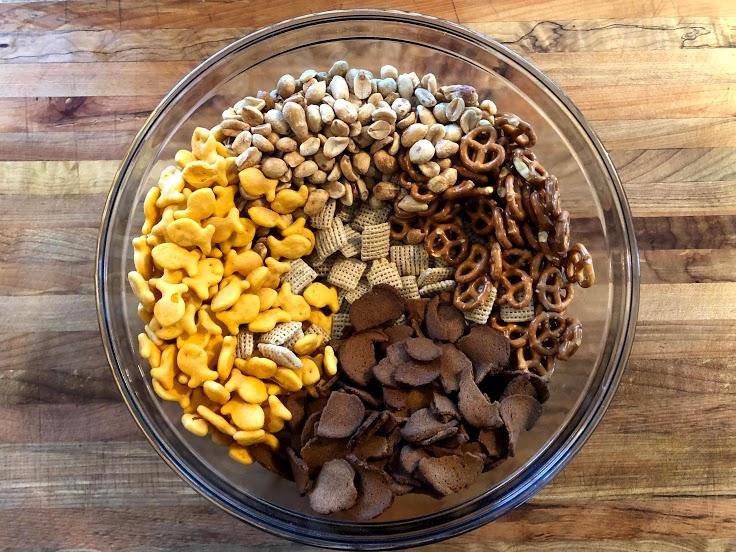 Add the remaining ingredients to a large bowl and mix them with your hands. Slowly drizzle the butter mixture over the dry ingredients and gently toss. Try to coat each piece, but be careful not to crush the cereal. 
Spread the snack mix into an even layer on a cookie sheet and place it in the oven. Remove the pan and stir every fifteen minutes for about 45 minutes.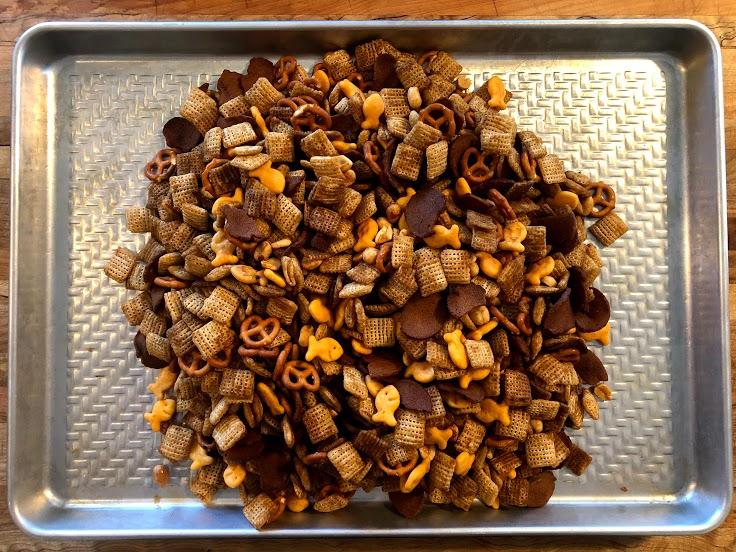 Allow the snack mix to cool to room temperature before transferring to an airtight container.  
Enjoy!