Ayla Adkins/The Broadside
Central Oregon is known for its beautiful landscapes and outdoor activities. Artist Richard Yozamp takes these marvels and adds his own unique style to them.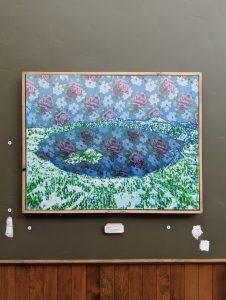 Yozamp was always passionate about art, but that doesn't mean it was always easy. He recalls his college days at Montana State University where he actually got a business degree, instead of an art degree. He said that this was because he didn't like what the professors were trying to mold him into.
"If I was to go back and give a lecture at the school I would say 'don't do it'," said Yozamp. He continued and said, "Don't do it unless you have to paint, and I mean have to paint." He describes his need to paint as 'intense' and something that is part of his being. Yozamp went further and explained it as a difference between a hobby, a passion and a necessity.
Yozamp describes how 'vicious' the art world is and how he describes art as a very "temporary thing [because] you look at it and you move on." He elaborated explaining that 'music captivates its listeners for minutes, while art captivates many individuals for only a few seconds'.
Yozamp also describes the stigma around art. He said that "If someone asks what I do, I tell them I am a businessman because the moment I tell them I am an artist they respond with 'oh my niece paints' or 'oh my son likes to draw'. 
He explains that people don't see professional artists the same way that they see other occupations. 
"My uncle would be like 'I don't get art, I could do that. I could paint that.' And I'm like 'well yeah, but you didn't'. That is the biggest thing." said Yozamp. 
Yozamp dived headfirst into the art world shortly after he graduated from Montana State University, 
"I got lucky in the fact that I moved down to San Diego and got introduced to the business side of the art world. I started working for a t-shirt company and that really grew by my art."
While working for this t-shirt company Yozamp found the opportunity of a lifetime when he started working for the "the craziest Australian artist" he had ever met, Shane Bowden.
"I started working for him and learned how to be a professional artist," said Yozamp. "Our first order had 900 paintings and was 2.5 million dollars. We shipped two shipping containers, like the ones you see on barges, full of art and we sent them to Tokyo for our first Gallery." He explains that this was all done in three months and this was his start in the art world. 
Yozamp kept learning the craft and following Bowden's lead. "I would probably paint for him 40 to 50 hours a week and then I would paint my own self probably 20 to 30 hours a week if not more," said Yozamp. 
Yozamp ended up doing more shows at Bowden's side like "San Francisco, LA, San Diego, Oregon, and Phoenix." By the end, Yozamp was "opening up all of his galleries and doing all the creative work."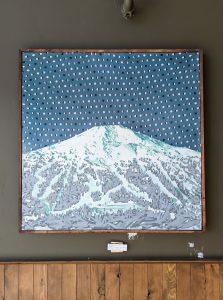 But Yozamp could only work under someone for so long and decided it was time to cut ties with Bowden. He said that "looking back I am glad I did it, but it was a pretty brash decision at the time." 
Yozamp then moved back to Oregon and starting focusing, fully, on his own art career. This included his street art, which he likes to place on empty lots. His street art usually consists of some type of foliage (recently he has been all for manzanita bushes) some paint, and maybe a bit of glitter. He also was the artist behind the Myagi Ramen mural. 
Yozamp has also been doing a lot of commissions. With more people working from home due to the pandemic he has been receiving more requests. His theory is that individuals who are constantly at home working want to make their homes more artistic. He also said that he has been getting more commissions because "people who are moving up to Bend want to have a piece that makes them feel connected with the community they are seeing and interacting with."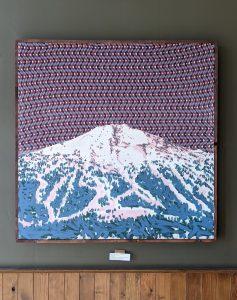 Currently, Yozamp has a gallery set up in the Box Factory in Bend. All the proceeds will go to Mountain Star, a nonprofit community support organization. 
Yozamps art can be found online here. Anyone interested in purchasing any of the art set up in the Box Factory can email [email protected].