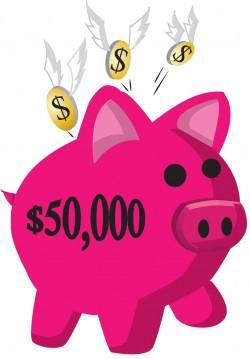 The campus student government recently found they were nearly $50 thousand short in their budget.
Following recent funds requests from the Associated Students of Central Oregon Community College for transportation to attend legislative and leadership conferences, ASCOCC director of fiscal operations Shanelle Allen enacted a spending freeze on the budget. The reason for a freeze: A chunk of the student government budget not accounted for, according to a Feb. 18 email from Allen to the student government.
"Upon going through the current budget and spending, Taran and myself have come to see that we are $50,000 in our budget due to lower enrollment and budget rollover," Allen wrote.
Missing funds
Amber Ruedi, the director of Student Affairs for the student council, was one of the first to question the source of the missing funds in an email to the student council.
"This is a bit of a disturbing finding all around," Ruedi said. "Hopefully you do not find that we are further in the negative. … I have a lot of concerns and questions for the future of ASCOCC."
However, the funding was only a budget oversight, according to Allen.
"[Last year's estimated rollover funding] was prior to [COCC's] fiscal year ending," Allen said. "So spending was still occurring, but the budget did not reflect the continued expenses."
Meanwhile, only one-tenth of that near $50,000 cut amount is due to enrollment drops, according to Alicia Moore, the dean of Student and Enrollment Services.
"We're estimated over the course of the year about a 6.5 percent drop [in enrollment]," Moore said. "Of that $318,000 that we estimated for them last January, we anticipate that being down about six to seven percent, which equals $5,000 [for ASCOCC]."
The reason this just came to light was that, according to Allen, previous fiscal officer Matt Armstead made a blunder.
"This was not known at the beginning of the year because the first fiscal officer did not catch it, wasn't aware of it, or did not take the time to look into it," Allen said.
But according to Armstead himself, the budgets were already cut to reflect the funding change at the beginning of the year.
"We knew that at the beginning of the year," Armstead said. "We took $45,000 out of the approved budget."
Armstead turned in his letter of resignation to ASCOCC Nov. 25, and resigned Dec. 9, but the missing chunk of money was not discovered until mid-February.
Spending freeze may have been a breach of bylaws
Ruedi was critical of the budget freeze.
"I would like to know why this was not approved by the council," Ruedi said. "We all need to be involved in this process, according to our bylaws and constitution. How are we all of a sudden -$50,000 and how can you arbitrarily cut the budget? This is a serious violation of our bylaws."
The director of fiscal operations position allows Allen to have "fiscal oversight" of budget accounts, according to Allen.
"If your accountant told you that you only have $20 left in your checking account," Allen said, "would you go out and spend $19?"
But while Allen may have power to make most monetary decisions, a spending freeze is not directly allowed in the ASCOCC bylaws. According to section two letter C of the bylaws, while the ASCOCC budget person may regulate accounts, direct freezing without the approval of other student government members, is not expressly allowed. As the bylaw states, the director of fiscal operations is instructed to "initiate the annual budget planning process, reconcile ASCOCC accounts on a monthly basis, process monthly payroll, perform a monthly audit report and retain fiscal oversight of ASCOCC accounts."
Armstead, who held the director of fiscal operations position for four months, did not believe the director of fiscal operations had the power to freeze spending.
"I feel like it would have to be something the council would have to vote on," Armstead said. "I wouldn't think that's something Shanelle could do on her own."
Consequences: Student leadership conference cancelled
The announcement of funds frozen came as members of student government and student leaders were preparing to leave for the Northwest Student Leadership Conference, which took place Feb. 21-23.
Killinger sent out an email days before the conference noting the unexpected turn of events. Because the student council could not travel, they could not drive or pay for the vans rented to take students, according to Killinger.
"I am very sorry as this was a very big opportunity for students on a variety of levels," Killinger said.
James Miller, a student and ASCOCC volunteer, was one of the COCC student who went. Grabbing a last-minute ride with a friend driving to Portland, Miller said he regrets that his fellow students missed out on "an incredible leadership development opportunity."
"I learned so much," Miller said, "and gained the tools to develop as a leader. It was worth it to me."
Miller paid for the expenses himself and may not get reimbursed for the money.
"There's been a big confusion," Miller, who is now Killinger's assistant, said. "Everything I paid for was from my own money."
End of the freeze
Student government met on Feb. 25 to discuss and reallocate funds so that student government could continue as usual.
Of the three overspent accounts, council travel, training and development, and unbudgeted/unallocated, two were reconciled with funds from the campus events and Cascades East Transit branch campus line items.
Council travel was $1,287 overspent and training and development was $1,922 overspent. The council moved that $4,000 from CET branch campus be reallocated to council travel, and $3,000 from campus events be reallocated to training and development to reconcile the accounts.
Once the accounts were reconciled, the funding freeze was lifted.
"It's done now, I'm glad it's cleared," Killinger said in the meeting.
Junnelle Hogen
The Broadside
[email protected]