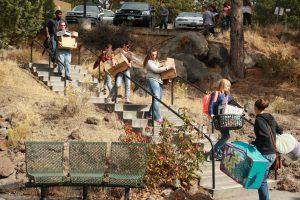 For the first time in three years, Juniper Residence Hall is at it's max capacity for amount of dorm students. Central Oregon Community College and Oregon State University-Cascades' dorms, which can accommodate 102 students, were filled to the brim by move-in day, according to Megan Bernard, Resident Director of the dorms.
"For the past three years, we've had an average of about eighty five percent full," Bernard said. The Juniper Hall staff was considering putting three students in one room or putting a student in the assistant director's room, but thankfully no such measures were needed.
"We had a waiting list of a couple people, but a few decided on different paths or couldn't get their financial aid," Bernard said. "We now have just one opening."
Also this year, there were more repeat students that the last four years since Juniper Hall opened as the dorm, according to Bonnie Steiner, the hall's maintenance and custodial staff member.
Juniper Hall's replacement, which is in planning and may open by fall 2014, will be able to hold up to 330 students, according to Steiner.
–Scott Greenstone
The Broadside