"It's an honor and a privilege to call you a fellow citizen of the United States." With this recorded statement from President Barack Obama, one student's dream of citizenship was realized.
On Sept. 14, the Latino Community Association's Festival of Cultures was held at Centennial Park in Redmond. The event, which brought together a host of local performers, food vendors, artists, and educators to celebrate diversity in Central Oregon, was highlighted by a naturalization ceremony that saw 15 immigrants from five countries become United States citizens.
Central Oregon Community College student Rocio Gonzalez was among the newly welcomed citizens.
"It means a lot," Gonzalez said, holding her naturalization certificate and a small American flag given at the ceremony. "Words can't describe it."
Like millions of other young people in the U.S., Gonzalez was brought to this country at a young age by her parents from Mexico. Working with the United States Citizenship and Immigration Services, Gonzalez took the necessary steps to officially become an American citizen.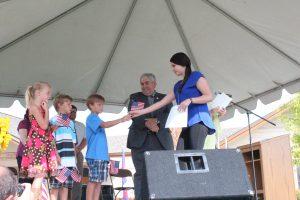 "It's a long process [and] the test is quite difficult," Gonzalez said. "You want to learn the history of the United States."
Gonzalez, who is working towards her Associate of Arts Oregon Transfer Degree at COCC, is excited for the new opportunities that being a citizen will present.
"It opens a lot of doors," Gonzalez said. "I did feel like there were limits before this."
Evelyn Sahli, Field Director of the Portland branch of the USCIS, administered the ceremony of naturalization, reading the Oath of Allegiance to the group of new citizens.
"It's the best part of my job," Sahli said. "It's emotional every time."
The USCIS partnered with the Latino Community Association to put together the ceremony. Sahli encourages anyone with questions about citizenship to contact the USCIS.
"We are not an enforcement branch," Sahli said, "we are just here to provide information on some of the benefits that people are qualified for."
As of Jan. 2011, the Department of Homeland security estimates that there are 11.5 million undocumented immigrants in the United States, with 46 percent being ages 18 to 34.
Redmond Mayor George Endicott spoke of the diversity that is prevalent in the U.S. as he addressed the recipients of naturalization at the ceremony.
"This is one example of both diversity and inclusion that is celebrated in America," Endicott said. "Our culture is made up of different inputs from all over the world. We are all here and we've made a great country and I just love it."
Darwin Ikard, The Broadside
(contact:[email protected])
Click here to see the video interview with Remond Mayor, George Endicott