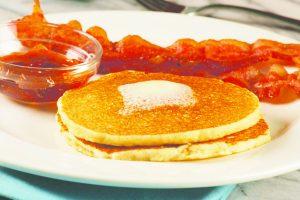 Pancakes
When you think breakfast, what's the first food that comes to mind? Of course it's pancakes. Served with a topping of mixed berries or maple syrup, pancakes are food for the soul. They're quick, easy to make and will appease even the pickiest eaters.
Smoothies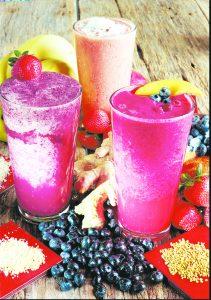 Bananas, blueberries, blackberries, oh my. The varieties are endless; blend together your favorite combination of fruit to start your day off with a tasty, drinkable treat.
French toast
Whether you're craving a Sunday brunch or a midnight snack, French toast hits the spot any time of day. Plus, it's so easy anyone can make it. Quality ingredients are the key and thick-sliced bread is best for soaking up the egg. If you're short on time cut the bread into strips and make french toast sticks you can eat on the go.
Biscuits and Gravy
When you're in the mood for  something on the savory side, biscuits and gravy can't be beat. Whip up this down-home diner food yourself for under under $10. While biscuits are baking, cook breakfast sausage and whisk up some country gravy. Take your B-and-G to "heart attack" level by serving it with a fried egg.
Breakfast Burrito
If you need to be out the door quickly, but still want a hearty breakfast, a breakfast burrito is the way to go. Scramble two eggs, add ham, cheese, hash browns and green peppers to a warm tortilla, and you've got a convenient and delicious start to your day.
–The Broadside Staff
()contact:
(contact: [email protected])