Food-carts are a  tradition on the east coast and they've just recently started to turn up in Central Oregon. This summer try some of the tastiest food on the street and to start you might visit these three vendors:
New cart on the block
Bend's newest food cart, The Brown Owl, hits the streets this June.
Their love for food and outgoing personalities inspired Lisandro and Gretchen Ramon to go into the food-cart industry.
"We work together," Gretchen Ramon said. "We are a serious team not to be messed with."
The husband and wife duo will be serving up breakfast and lunch daily from their new custom-built food cart in downtown Bend next to Drake Park.
"We're going to rotate a seasonal menu," Lisandro Ramon said. "Things will change all the time. If we feel like doing French toast one day, we'll do that."
The Brown Owl's base menu will feature breakfast sandwiches, hash, burritos and rice bowls, explained Lisandro Ramon.
"We like to sit down and plan menus together," Gretchen Ramon said. "That's really fun."
Since Gretchen Ramon doesn't eat a lot of meats, customers can expect to see some vegetarian and vegan options on the menu. Although there will be vegan options, Gretchen Ramon sees nothing wrong with occasionally cooking with a little rendered bacon fat.
"Bacon grease like my granny did," Gretchen Ramon said.
Originally from Oklahoma, Lisandro and Gretchen Ramon bring a couple different backgrounds to the table.
"My dad's from Argentina," Lisandro Ramon said. "I grew up with a lot of [grilled] meats and chimichurri, so that will definitely play a big influence."
Gretchen Ramon's background is centered around southern food.
"I'm really southern. I like a lot of fried stuff." Gretchen Ramon said. "There'll be some down-home country-girl style."
Customers can expect fresh, hearty American food with a fusion, according to Lisandro Ramon, who plans to purchase all the food he can locally.
"We're trying to primarily source everything as locally as possible," Lisandro Ramon said. "We're making everything from scratch."
Menu items will range from five to nine dollars at The Brown Owl,  which relatively speaking is "very affordable," according to Lisandro Ramon.
"We don't want to be pricey," Gretchen Ramon said, "We want everybody to be able to afford our food."
Along with their "good quality, local food," Gretchen and Lisandro Ramon plan to draw customers to The Brown Owl with their southern hospitality and family-friendly vibe.
"We're going to be crazy, funky, cool," Gretchen Ramon said. "We dance. Everything's very fun. We love to keep it light-hearted, real, upbeat and friendly."
–Anna Quesenberry
The Broadside
(Contact: [email protected])
Just wing it
His love for hot wings inspired Cory Edwards' to open up a food cart and spread the love of "wings and things" to others.
Johnny's Wings and Things, located on Bend's west side, specializes in hot wings and boneless "wing ditties." The toughest decision for customers is what sauce to choose. Edwards offers eight sauces ranging from hot to honey barbeque.
The boneless "wing ditties" are served with sauce on the side as opposed to traditional wings drenched in sauce. The "skaryaki" sauce is a little on the thin side, but it does pack a punch.
Edwards takes his food cart on the road to sell wings at concerts and events and catches every Phish concert he can.
–Anna Quesenberry
The Broadside
(contact: [email protected])
Confectionary goodness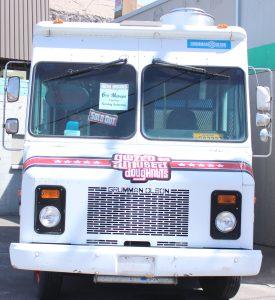 What started as a joke has now become a lucrative business for "Glazed and Amused" food truck owners Tony Santopolo and Darcie Davis. Originally called "Zombie Donuts," "Glazed and Amused" has become a hotspot for dessert-seekers in downtown Bend. "Glazed and Amused" features a bevy of sweet treats, including the pulled pork and pineapple-covered "Maui Wowi," the whiskey-infused "Car Bomb," and the bacon-wrapped "Rosco." Bring a friend to help finish these treats–they're massive.
–Jarred Graham
The Broadside
(contact: [email protected])