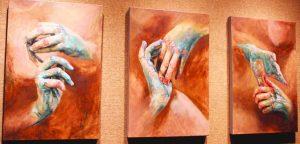 "What is the face of self-mythologizing? What is comfort? Can the counterfeit be as effective as the real thing? Or is something like comfort simply defined by how we define ourselves?"
These questions are better asked with paint, according to former Central Oregon Community College art students, Cara Thayer and Louie Van Patten.
Thayer and Van Patten have been painting together since 2008, their collaborative works from the past eight months were showcased at COCC's Pinckney Center in April. The artists delved into the advantages and disadvantages of collaborative art at a discussion.
Being open to outcomes is really important, according to Van Patten.
"You have to do what's going to be right for the painting," Thayer said. "More than anything, it's about trusting yourself."
–Anna Quesenberry
The Broadside
(Contact: [email protected])