Every generation needs its own vampire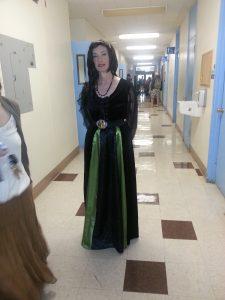 From blood-sucking monster to sparkling heart throb, each generation gets the vampire it needs, according to Eleanor Sumpter-Latham.
"Vampires change accordingly," Sumpter-Latham said. "You can match up things that are going on in America at any given decade or period with the kinds of popular literature and popular film that's produced."
Sumpter-Latham teaches the humanities course, Folklore and US Pop Culture at Central Oregon Community College and believes there's always hope for a modern vampire.
Modern day vampires are "really nice guys," Sumpter-Latham explained, who suffer from the "angst" that comes with worrying about their vampire tendencies, because the modern vampire is "socially conscious."
Modern day vampires are nice and they can bite people without killing them, according to Sumpter-Latham.
An advantage to being a vampire is being physically attractive and eternally young, she said.
"We don't want to be afraid of things," Sumpter-Latham explained. "We want [vampires] to be heart throbs, so when they are sinking their fangs into your neck, it's more like a really major hickie."
Traditional subgroup turned off by Twilight
There is a popular culture subgroup that wants vampires to remain monstrous, according to Sumpter-Latham.
"There are new vampire works that are very traditional," she said.
However most of the newer works that portray vampires as traditional blood-sucking monsters are only being produced outside the US, according to Sumpter-Latham.
She recommends "Let The Right One In" by Swedish author John Ajvide Lindqvist.
"The book is compelling," she said, "and the vampire in that is not a nice person."
Students sink their teeth into COCC's vampire course
The more you know about a topic, the more you get out of it, according to Sumpter-Latham, and it helps if you're already interested in the subject.
After completing COCC's Folklore and US Pop Culture, students may be able to evaluate vampire films and literature with a little more expertise.
"If you understand the parameters of a vampire movie," Sumpter-Latham said, "you're going to appreciate it more."
Much like all humanities courses, the course on vampires provides an understanding of culture and the ability to interact with others, according to Sumpter-Latham.
Students in the course are assigned group work and presentations. Those who are interested in film will get the chance to produce their own film clips.
Sumpter Latham believes the course gives students a sense that their interests are worth looking at.
"If you are interested in Beowulf, you can study Beowulf," Sumpter-Latham said. "If you are interested in fungi, you can study fungi. If you're interested in vampires, why not?"
Vampires are sexual, compelling creatures
There's something compelling and sexual about vampires, explained Sumpter-Latham.
"People want to experience this kind of really dangerous thing and associate it with sex," she said.
Sumpter-Latham finds the modern sexual elements of vampires to be interesting, and it is covered it in the curriculum.
"I'm interested in some of the developments into reasonably hard-core pornography," she said, "and although no one in the class has to read such things, I do want to make it an option so that people who are interested in that direction can work with that individually and discuss it in a group."
A disclaimer printed on Sumpter-Latham's syllabus states the class is intended for students over the age of 18.
"Vampires are sexual," she said. "If that's going to make you uncomfortable in the class, this isn't the class for you."
Vampire Trivia
Q. Why were dogs and wolves believed to be the enemies of the folkloric vampire?
A. Starving dogs would dig up shallow graves, leading villagers to believe they had gotten into a fight with the "vampire."
Q. What 15th century king of Wallachia partially inspired Bram Stoker's "Dracula"?
A. Vlad Dracul (Vlad the Impaler)
Q. "Mr. Pointy" is the trusty stake of what vampire slayer?
A. Buffy the Vampire Slayer
Q. What was one of the earliest physical representations of the vampire in folklore?
A. A bag of blood that rolled out of a grave.
Q. Who wrote the vampire novel Salem's Lot?
A. Stephen King
Q. Which author introduced the concept of vampires that sparkle in the sun rather than burn?
A. Stephanie Meyer
Q. What are three ways to kill a vampire?
A. Stake them, burn them or behead them.
Q. In modern vampire stories, what creature is often considered the vampire's natural enemy?
A. Werewolves
Q. What animal was traditionally associated with vampires?
A. Rats