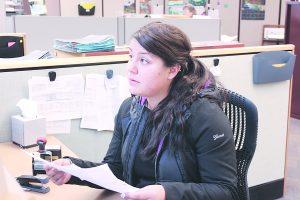 Spanish speaking students now have the option to view online resources in Spanish.
"COCC en Espanol" was launched in March by the Central Oregon Community College's diversity committee. It gives spanish speaking students and prospective students the ability to view the resources on COCC's website in spanish.
"The main reason we implanted the [Spanish website and phone line] is because we wanted it to be some place families can get information," COCC Admissions and Records bilingual enrollment specialist Alma Aguiar said.
More jobs like Aguiar's are being created at COCC that require applicants be bilingual, according to COCC Latino program coordinator. Evelia  Sandoval. In 2011 Sandoval's position was established to help Latino students in their college journey.
"[Bilingualism] is understanding the culture," Sandoval said. "If I didn't speak Spanish, it would just be a little more difficult."
Sandoval sits down with the entire family when a prospective student requests a meeting.
Her goal is to recruit, retain and help Latino students and their families.
COCC offers a Latino Learning Community class that Sandoval teaches on the Redmond campus. The course focuses on college success and writing.
Sandoval has visited many universities and she said she is excited and impressed by how much COCC focuses on different cultures.
After launching COCC en Espanol, the diversity committee has now switched gears, according to Sandoval, and is beginning to work on a COCC Spanish brochure.
Having spanish options available on campus is crucial to to the success of Spanish-speaking students because it is more comfortable to learn new information in your native language, explained Sandoval, even if the parents and students are fluent in English.
Sandoval encourages her students to diversify himself because she believes it helps them to grow as individuals.
"I would like to see people grow more, put themselves a little bit out of their comfort zone. I feel like when I try something new I grow," Sandoval said. "It's experiencing the world."
–Kaycee Robinson
The Broadside
(contact: [email protected])