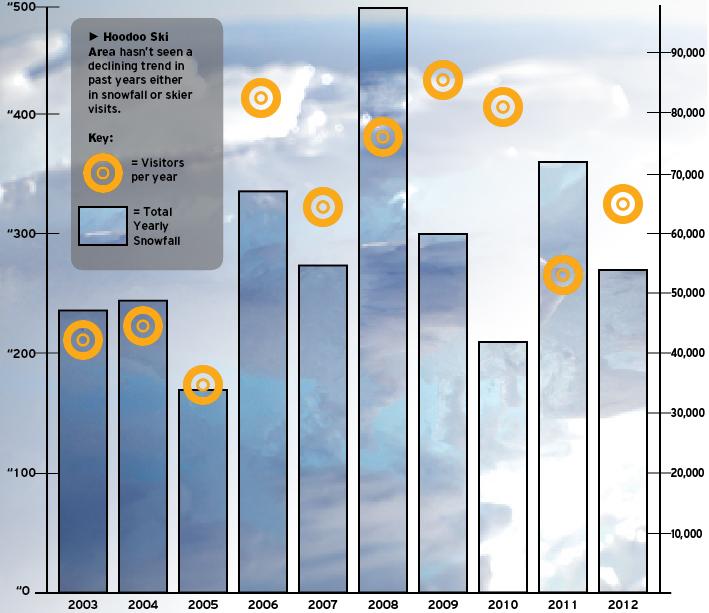 Are the Cascades seeing a decline in snowpack? Two Oregon State University-Cascades professors have differing opinions.
Current snowpack data does not point to a long-term drop, according to Matt Shinderman, OSU-Cascades' Natural Resources instructor.
"I don't deny that climate change is occurring; it is certainly occurring," Shinderman said. "If we really want to talk about snowpack, then we should probably wait another 20 to 30 years because right now, the data don't necessarily support a declining trend."
It depends on how they interpret the data, according to Shinderman. At the moment, things look favorable.
"It's very dangerous…to try to infer general trends," said Shinderman. "Generally speaking, there's little evidence to support the idea that snowpack is declining."
Despite the unreadability of the data, Shinderman sees a lot of hype about decreasing snowfall going around.
"There's a stat that you'll see out there that says 'snowpack has been declining at something like roughly 15% in the last 50 years.' I don't see it in the data…. Usually that figure doesn't include 2012, where we had over 690 inches of snow at Mt. Bachelor."
These reports are circulating, said Shinderman, because of how the data is presented.
The "perception" of declining snowpack, Shinderman explained, is because "you can read it in almost any report… [certain reports] talk about changes, but then you look at the data and it's not necessarily congruent with results."
As far as the future goes, Shinderman doesn't see any cause for worry for outdoor recreation.
At Hoodoo ski resort, there's no trend of snow decrease, according to Leif Williams, Vice President of Marketing for Hoodoo.
"Amazingly, it goes up and down quite a bit from year to year," said Williams.
This supports Shinderman's claim that snowpack is "highly variable."
Shinderman is not ruling out climate change, but can't say the snow is "leaving" until he's seen more evidence.
However, not everyone is as neutral as Shinderman. Climate change will doom snowpack eventually, according to Matt Orr, OSU-Cascades instructor of Biology and Ecological Restoration.
"The skiing industry's screwed," said Orr.
Studies show fewer and fewer open days for ski resorts specifically in the Northeast, according to Orr. A study in the New York Times article "Rising Temperatures Threaten Fundamental Change for Ski Slopes" identified seven of 18 resorts in New Hampshire and eight of 14 in Maine that will be closed by 2039.
"I think we're headed for a completely different world," Orr said.
–Anna Quesenberry
The Broadside
(Contact:[email protected])