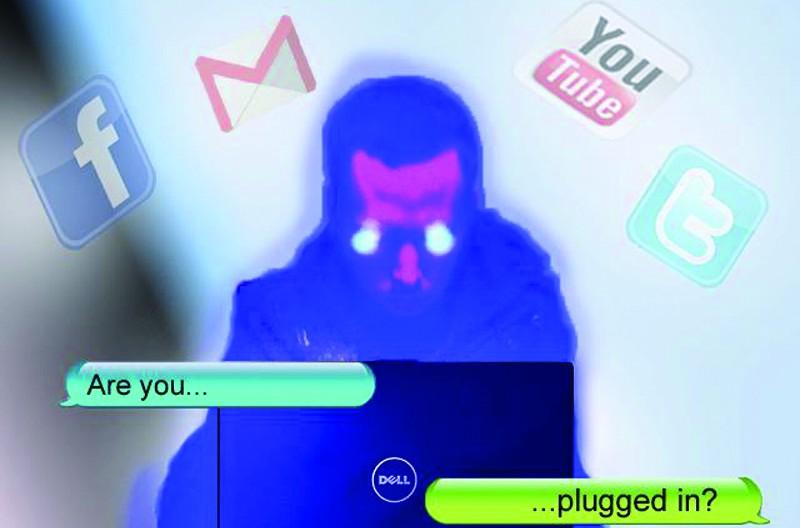 How many times did you log in to Facebook over winter break?
Andria Woodell, a psychology professor at COCC, spends her breaks unplugged.
"I get really plugged in," Woodell said. "You get to the point where you're checking [Facebook] so much. I have to detox myself."
Woodell sets boundaries on her online usage. She does not check email after six on weekends or breaks.
"With texting, everybody's so accessible 24/7," Woodell said. "It's good sometimes to disappear and find a book."
However, there is a plus side to being plugged in, Woodell explained. Social media has enriched class discussion and Woodell sees it as a "good thing" in the teaching environment.
"My students find really great links," Woodell said, "A lot of the best stuff I have comes from students who see stuff online; memes, videos, Pinterest. My students surf the internet so much… it lets me relate with them on some levels."
Research shows conflicting information on the impact social media is having, Woodell explained. It gives introverted individuals an outlet to meet a people and develop social networks. However, there are those who spend too much time online and lose connection with the real world, according to Woodell.
"Social media is good," Woodell said, "but as with everything, it's about moderation."
Flaunting it on FB: Is social media causing a narcissistic society?
It's hard to say if social media is causing people to be more narcissistic or if more narcissistic people are drawn to sites like Facebook, Psychology Professor Andria Woodell at COCC explained.
Psychologists are using the term "narcissistic society," to describe certain behaviors on social media sites.
"A lot of people are just going on Facebook to be told they are hot," Woodell said. "That's not a really good assessment of what your skills are and who you are."
Facebook members who post pictures of themselves for the sheer purpose of getting others to "Like" them, end up receiving "fake feedback," Woodell said, which can have an impact on narcissism and self esteem.
Facebook presents a false sense of reality, Woodell explained.
"On Facebook everything is fun and awesome," Woodell said. "I always wonder, how do they get these perfect pictures? How does everybody look like a model?"
How technology affects students
Grades can be impacted by students accessing too much technology, according to Computer and Informations System's Department Chair at COCC, Lew Cousinea.
"One can be too plugged in," Cousinea said. "Social networking is distracting."
However being unfamiliar with technology can be a burden for students.
"Without technology students would be at a disadvantage in their classes," Cousinea said. "A computer is right up there with a pencil and paper."
By setting limits and acting responsibly, teens and students can use technology effectively, explained Cousinea.
"Seventh or eighth grade is a good age to start kids with cell phones," suggests Cousinea. "If we set limits and they can be responsible, it could be okay."
Using an electronic device before bed can sometimes disturb students sleep patterns, causing ill performance the following day, Cousinea said.
Would your Facebook get you hired?
There is no law prohibiting potential employers from asking for Facebook passwords as a part of an interview process, according to business administration professor Sue Meyer.
"It's much like asking about lifestyle or marital status," explained Meyer. "Never good territory on the part of an employer or potential employer, but unfortunately it's not illegal."
Job-seekers should be aware that it is happening, according to Tracy Dula, Career Services Coordinator at Central Oregon Community College. She has heard of people losing their jobs over posts they've made on Facebook.
"When you're starting your job search you should Google your name and see what comes up," Dula said. "See if there is anything that you want to clean up."
No one may login to your Facebook profile without your permission, but unless you set your privacy settings carefully, anyone can still publicly see what you do and say, Meyer explained.
"If you wouldn't want your grandmother to see, you shouldn't post it," Dula said.
Communication breakdown: Non-Facebook member speaks out against social media
David Houston considers Facebook to be a waste of time.
"I already know all my friends," Houston said. "I don't need to be constantly in contact with everybody."
Houston is studying to become an electrical engineer at COCC. He knows a lot of people who are on social media sites "all the time."
"People want to feel important; that's what Facebook promotes," Houston said.  "They want to feel connected."
Houston sees Facebook as a communication "handicap."
"When they do start talking to people in person, they can't communicate," Houston said. "It's easy to type words on a computer. In person you actually have to think about what you're saying right then and there."
Houston has not completely ruled out social media from his future.
"I might when I go off to college and move away from everybody I know," Houston said. "To keep in contact, but that's it."
Houston would suggest Facebook users limit their Facebook time to 15 minutes a day.
"If you're using [Facebook] to talk to family members," Houston said, "I'd suggest using a phone."
How social media has changed the music scene
"[Facebook has] definitely changed the music scene," Sawyer Lowe, COCC student and musician said. "It really has opened up the arena. Facebook is a great tool."
How often do you login to Facebook?
"I'm sure I'm on there at least once a day," Lowe said, "probably more than I'd like to admit."
Could you live without Facebook?
"I probably could but it would take some getting used to," Lowe said.
Do you see any negative sides to social media?
"The anonymous aspect, it can range from people not keeping their word to cyberbullying," Lowe said. "Like anything, you get out what you put in."
How important is Facebook to an upcoming band?
"Facebook is such a social site. It's great: people can stumble upon your stuff Lowe said. "People who would never go to a show hear about it on facebook and they're exposed to a new kind of music.  Facebook is awesome."
Perspective of a COCC Student
Ryder Szigeti uses his iPhone, laptop, iPod and an Xbox 360 to stay plugged in.
Szigeti is a second year COCC student. He uses Facebook, but doesn't spend a lot of time checking his "Newsfeed."
Szigeti has owned a cell phone since he was 16 years old and cannot remember the longest time he has gone without it.
"I use my phone in class," Szigeti said, "but none of my teachers seem to notice or care."
While driving Szigeti avoids using his phone, he plugs in his iPod instead.
Szigeti may not always be plugged into technology, but he still likes having his devices around.
"I wouldn't want to go without technology," Szigeti said. "I could, but it would be pretty crappy."
–Anna Quesenberry and Tabitha Johnson
The Broadside
(Contact: [email protected] and [email protected])