With the new thriller "The Woman in Black," Daniel Radcliffe is hoping to distance himself from the Harry Potter franchise. And despite the film taking place in England, containing supernatural elements and the main mode of transportation being trains, he may be off to a good start.
Tobey Veenstra
The Broadside
There are no nearly headless ghosts in the film and the trains certainly don't take him to Hogwarts.
Radcliffe plays lawyer/father/widow Arthur Kipps who is sent to a remote village to handle the estate of the late Alice Drablow. Once in town, all the usual horror movie warnings pop up. The village has no working phones, a hotel with an innkeeper claiming to be "all booked up" and children who stop and stare with those creepy, blank expressions. After several children die and Kipps spends a night in the Drablows' mansion, he learns about Alice's sister Jennet, whose ghost—the title character—might haunt the town, trying to avenge her son's death by having the town's children commit suicide.
The performances are decent, in particular Ciarán Hinds's (yeah, he's the guy who played Dumbledore's brother, but that's about where the connections end). He adds a morose depth to the village's only welcoming character.
Radcliffe also seems to step into his role with ease, playing a widow who deals with his grief by drinking and burying himself in his job's paperwork, distancing himself considerably from the boy-who-lived. There are scenes in "Woman," however, where Kipps finds himself in dark rooms and you almost expect him to pull out a wand and yell, "Lumos!"
As a thriller, the film works. Director James Watkins and the crew utilize the gothic mansion well, from its constant creaking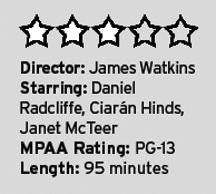 to its tall, stretching walls, decorated by cobwebs, shadows and creepy Victorian ornaments. It has more personality and dimension than most of the townspeople and Watkins takes full advantage of it.
The rollercoaster style thrills are also handled nicely, evocative of the old-school horror flicks that this film's British production company, Hammer, helped pump out during the '50s, '60s and '70s.
Despite these thrills, however, "Woman" won't leave a lasting impression. For the most part, this is due to its bittersweet ending. Like a rollercoaster ride, the film coasts the audience into a comfortable, almost feel-good type resolution. The credits roll and you'll leave the theater feeling safe and unafraid.
(Contact: [email protected])