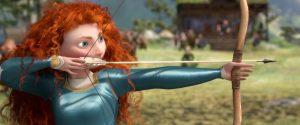 Sass, teenage rebellion and a tumultuous mother-daughter relationship: it looks like Disney has finally produced a princess with whom girls can relate.
By Cedar Goslin
Disney Pixar's "Brave" tells the story of a wild-haired and spirited princess, Merida, who dreams of something bigger than the royal life that has been laid out before her. More interested in archery and adventure than curtsying and perfectly queenly manners, Merida is a constant frustration to her mother, Queen Elinor. The two are constantly engaged in a battle of wills, but when Merida defies custom and refuses to pick a suitor, it proves to be the last straw for both of them. After a slew of hurtful words and destruction of property from both sides, Merida runs away from the castle. Not far from home, she has the questionable fortune of meeting a witch, and begs for a spell that will change her mother, therefore saving her own fate. The spell succeeds in changing Elinor, but what Merida wasn't counting on was that it changes the elegant queen into a massive bear. Once Merida discovers what she's done, she has to keep her grizzly mother out of sight of the bear-hating King Fergus, as well as find a way to turn her back before the second sunrise, when the spell will become permanent.
It's refreshing to see a children's movie that portrays and explores the relationship between mother and child, especially considering a mother figure is absent in most Disney films. Children in the audience may be able to relate to Merida's feelings of being suffocated by her over-bearing mother, and parents to Elinor's fierce concern with the well being of her child. It's touching to watch mother and child put aside their differences and work together– even if sometimes it's easy to forget that Merida is working with her mother, not a comically pompous circus bear.
As they work together, mother and daughter begin to mend their bond. Elinor learns that her daughter isn't merely obstinate, and Merida learns that happiness is more complicated than just getting her own way. She also learns that she has certain responsibilities to protect her kingdom; she must then decide if she's brave enough to fulfill them.
"Brave" is more than a funny children's flick with a crown-wearing bear; it's a classic coming of age story with which anyone who has ever disagreed with their parents can relate.
Our rating: Four stars
Director: Mark Andrews, Brenda Chapmen, Steve Purcell
MPAA rating: PG
Length: 100 min