Andrew Mayhill
The Broadside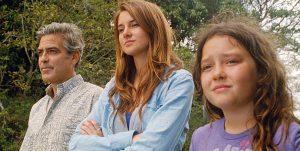 Set in Hawaii, Alexander Payne directs a humorous and tragic tale of grief and reconciliation with "The Descendants." George Clooney stars as Matt King, a wealthy lawyer emotionally detached from his wife and two daughters. Matt is forced to reconnect with his daughters when his wife suffers a severe boating accident and falls into a coma.
Clooney's performance as Matt King feels very natural. He plays his character similarly to some of his previous film roles except that he adds a noticeable element of inexperience when it comes to his character's parenting abilities. Between Alexandra's (Shailene Woodley) rebellious and defiant nature and Scottie's (Amara Miller) impulsive and over-active behaviors, Matt King is always at a loss with how to react to his daughters.

The film's humor, setting and music keep "The Descendants" from becoming too bogged down by an overwhelming feeling of grief. Every sad scene is quickly supplemented with a joke, some upbeat Hawaiian music or a relaxing scene at the beach. Payne manages a delicate balance of light heartedness amidst a tragedy not seen in many films and he pulls it off nicely.
The film's flaw lies with Matt King's comatose wife, Elizabeth King. Since she is in a coma, development of her character relies solely on the film's dialogue between other characters talking about her. Unfortunately, this falls flat and Elizabeth's character remains one-dimensional. While Matt King and his daughters evolve and develop, Elizabeth remains the same person to all of them even by the end of the film.
It is an enjoyable experience from start to finish. It provides enough distractions in its setting, music and humor to keep itself from becoming a film about an overwhelming emotional tragedy. It's a must see and its Academy Awards nominations come at no surprise.
(Contact: [email protected])