Diagnosed with epilepsy at age four, Connor Doran took his mind off the disorder by flying kites—a hobby that would take him to the semi-finals of America's Got Talent.
Kirsteen Wolf
The Broadside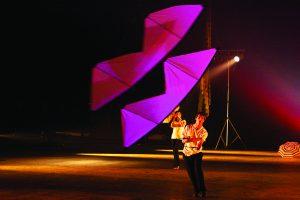 There's a celebrity sitting next to you.
Connor Doran, an 18-year-old Central Oregon Community College student, made it to the semi-finals of America's Got Talent by flying an indoor kite. Yes, an indoor kite.
A YouTube video of the show has over three hundred and seventy five thousand views. You can hear the crowd chant and the judges gush over his performance.
When Doran performed in Portland, he told the judges that when he is flying he never thinks about having a seizure.
Doran was diagnosed with epilepsy at age four.
"When I am flying my kite, I don't pay attention to anything else," he said.
Diagnosis
When Doran was first diagnosed, he was having 30 to 40 absence seizures (seizures consisting of staring spells and limited consciousness) a day. With different medications—sometimes five kinds a day— it has been possible for Doran to live seizure free for years at a time.
Doran also lived with feeling different from everyone else.
"Epilepsy is an unseen medical condition," said Amy Doran, Connor's mother. "[People think] you should act like everyone else."
The recovery from seizures have changed over the years; they used to last anywhere from a short period to a few days.
On Doran's ninth birthday, his disorder took a frightening turn when he collapsed in his father's arms after an attack.
"Eight years later, to see him up on stage in Portland," said Tim Doran, Connor's father. "It took my breath away."
The Kite
Doran flies an indoor four-line kite. He is the sole power behind its movement. There can be no drafts and no loss of concentration. It's intensely physical and the coordination precise. Doran moves backwards across the stage, pulling the kite, making it respond to his perfectly timed directions. He trains for hours a day and once he synchronizes with the music and the rhythm of the kite, he is in the flow. He is an athlete.
Sometimes Doran will fly two kites stacked on top of one another or his kite will have a long iridescent tail.
A champion's road
A turning point in Doran's kite -flying came in Camus Washington with a kite that Doran describes as weighing about as much as a "turkey sandwich."
Doran's mother was going to compete in an indoor kite festival and Doran went along. He had been flying outdoor kites and competing with them. The coordinator of the festival handed him a single-line indoor kite and Doran ended up competing with it. He was hooked. Off he went to other kite festivals.
At age 15, Doran started using an indoor Revolution sport kite. He practiced every day, and three weeks later won in the experience class at another Washington festival. He was eventually named Northwest champion in 2009.
Doran trained with Scott Weider, a kite champion, who taught him how to fly. Weider set his sights on America's Got Talent, but after making it through auditions, the judges voted him off.
Doran took up the challenge and was determined to audition for the show.
"The thing that scared me was that Scott Weider is a world class flyer, a several-time national champion," said Doran, describing himself as an "up and coming" flyer at that time.
Doran pre-registered and submitted a video of his kite-flying from Camus thinking he would "never hear from them again."
He got a call back to audition in front of the producers of the show in Portland and a week later, it was back to Portland for the Keller Auditorium performance.
America's Got Talent
When a performer doesn't make the cut, the judges press a loud buzzer. Doran was nervous waiting for his turn. Once on stage, he had 90 seconds.
"I was convinced that something would go wrong," he said.
It was a packed house. Sarah McLachlan's song "Angel" starts to play and away Doran went. After half a minute into the performance, Doran realized that he wasn't buzzed yet and so he just "let go."
"It was an amazing experience," he said.
The judges loved it—calling it extraordinary, unique and spiritual—and the crowd chanted "Vegas," encouraging the judges to send Doran on to the next round in Nevada. Doran had just turned 17.
Eliminated in Vegas, Doran was brought back to Hollywood for the Wild Card quarterfinals and was voted into the semifinals by the American public.
Epilepsy
America's Got Talent helped Doran be taken more seriously as a flyer and the national attention enabled him to encourage epilepsy awareness. Since his diagnosis of epilepsy, Doran has struggled.
"I've been made fun of, been in and out of hospitals, suffered from anxiety, depression, Obsessive Compulsive Disorder," he said.
Doran knows that there are things he cannot do.
"Those thoughts have not gone away, but since America's Got Talent, I have something to be proud of," he said.
He has gotten messages from people who are inspired by his example of following a dream despite the obstacles. Doran and his family were surprised by the intense emotional response from people all over the world.
Doran was invited to speak in front of thousands in Washington D.C. at the National Walk for Epilepsy.
"All my life I have been told that I can't do certain things but that only motivates me to prove those people wrong," he said at the walk. "If you can dream it, you can do it."
Scholarship
Doran worked for the national Epilepsy Foundation in high school along with playing in the school band, working hard to keep his honor student status. After graduating, he was looking for a scholarship to make another dream come true: college.
However, as his applications were rejected from scholarships and schools and he watched his high school friends land big awards, he felt his spirits sink.
Good news came back in June 2011. Doran got a call from Union Chimique Belge, a global biopharmaceutical company. He was told that of the over 800 people that applied nationally for the UCB Family Epilepsy Scholarship, he was one of the 40 that were awarded money.
"Each recipient will receive a scholarship worth up to $5,000 for tuition at colleges, graduate schools and technical schools across the country," according to UCB's website.
The awards are handed out to "individuals from across the country who are pursuing higher education as part of their efforts to live beyond the limitations posed by epilepsy" according to PR Newswire.
All the hard work paid off.
Big city life
Doran is attending COCC part time and will work his way through a transfer degree so he can attend a four year university. He's always been a big city fan and can picture himself in Los Angeles to be close to entertainment and the coast.
But Doran still flies his kite.
"Kite-flying does take away the stress of school," he said.
Connor Doran has a busy schedule, a list of accomplishments and a future of dreams that makes both his parents, his friends, his community and himself proud.
"Connor has epilepsy," said Amy Doran, "but it doesn't have him."
(Contact: [email protected])