"Lessons from Our Fathers"
"It always seems impossible until it's done," said Nelson Mandela. "If you're not ready to die for it, put the word freedom out of your vocabulary," said Malcolm X. These are two powerful statements challenging the persevering core within the human soul. These words were spoken by two men who earned notable recognition through the hardships of confinement, racism and social inequality. They also used their struggles to reinvent themselves as hungry leaders, pursuing justice and education for all.
When we think of Malcolm and Mandela, we rarely mention the two human rights activists as partners in the same field. However, those who've seen Spike Lee's Biographical 1992 film "Malcolm X," starring Denzel Washington, will remember Nelson Mandela himself making a cameo in the movie in support. This Mandela cameo illustrates that both men were neighbors, and perhaps, even brothers, in the fight against social injustice. Though both men are no longer physically with us, they haven't left us, for their legacy is very much alive in all of us. Who better to remind us of these legacies than Ndaba Mandela, grandson of Nelson Mandela, and Ilyasah Shabazz, daughter of Malcolm X.
To commemorate "The Season of Nonviolence honors," on the afternoon of January 26, Ndaba and Ilyasah visited Central Oregon Community College for a student discussion in Willie Hall. Later that evening, the duo premiered at the Tower Theatre for a free public event hosted by the Nancy R. Chandler Lecture Series, "Lessons from Our Fathers." 
The focus of these events was encouraging and inspiring youth to find their voice within the community by being proactive in voting, self-education and community work. Additionally, these events advocated for the younger generation to be ambassadors for change within their community. Instead of relying on the older generation, often reluctant or slow to innovate, it was encouraged for the youth to be the push. Ilyasah and Ndaba reflected on their iconic fathers' legacy and lessons to the audience to push this focus.
Ilyasah is more than an inspirational activist for social justice. She is also a professor who promotes higher education for at-risk youth, author of multiple award-winning publications, NAACP awards, and serving as a member of the U.S. Delegation under president Bill Clinton are a few of her accolades.
Ndaba, co-founder and co-chairman of Africa Rising Foundation is also an activist for social justice, an author, youth mentor, spokesperson and political consultant.
Inside Willie Hall, students were assembled in chairs in a U-shape as Ndaba and Ilyasah eagerly awaited questions. A student named Louisa directed a question toward Ndaba. "As a teen in Bend, what can I do to promote systemic change and also in our wider community?"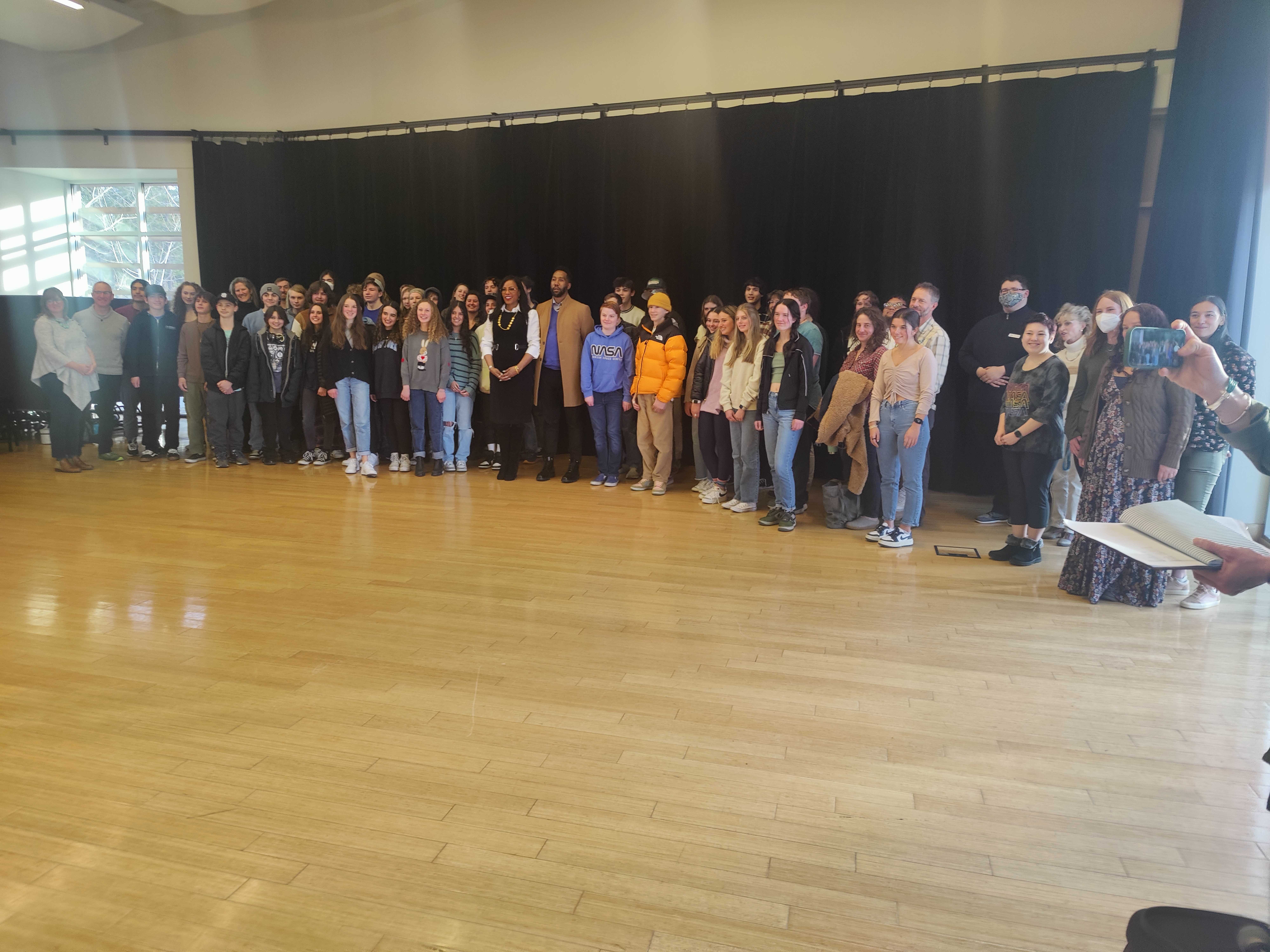 Ndaba answered, "Well, in order for you to create the systemic change, you need to be in the system." He continued to express how getting involved in civic service is one of the best ways for young people to be averse to public service.
"What keeps you inspired?" was the next question that another student submitted. "Young people keep us inspired!" answered Ilyasah. She explained how she's equally inspired by the youth who become proactive in seeking equality for undeserved communities.
At the Tower Theatre, the venue was packed with students and local community members. Ndaba and Ilyasah opened with empowering speeches reinforcing the message delivered earlier at COCC. Though, this time, the two aimed a little more toward the older generation. Afterward, the two on stage engaged in a sit-down dialogue with COCC's Director of Diversity and Inclusion, Christy Walker.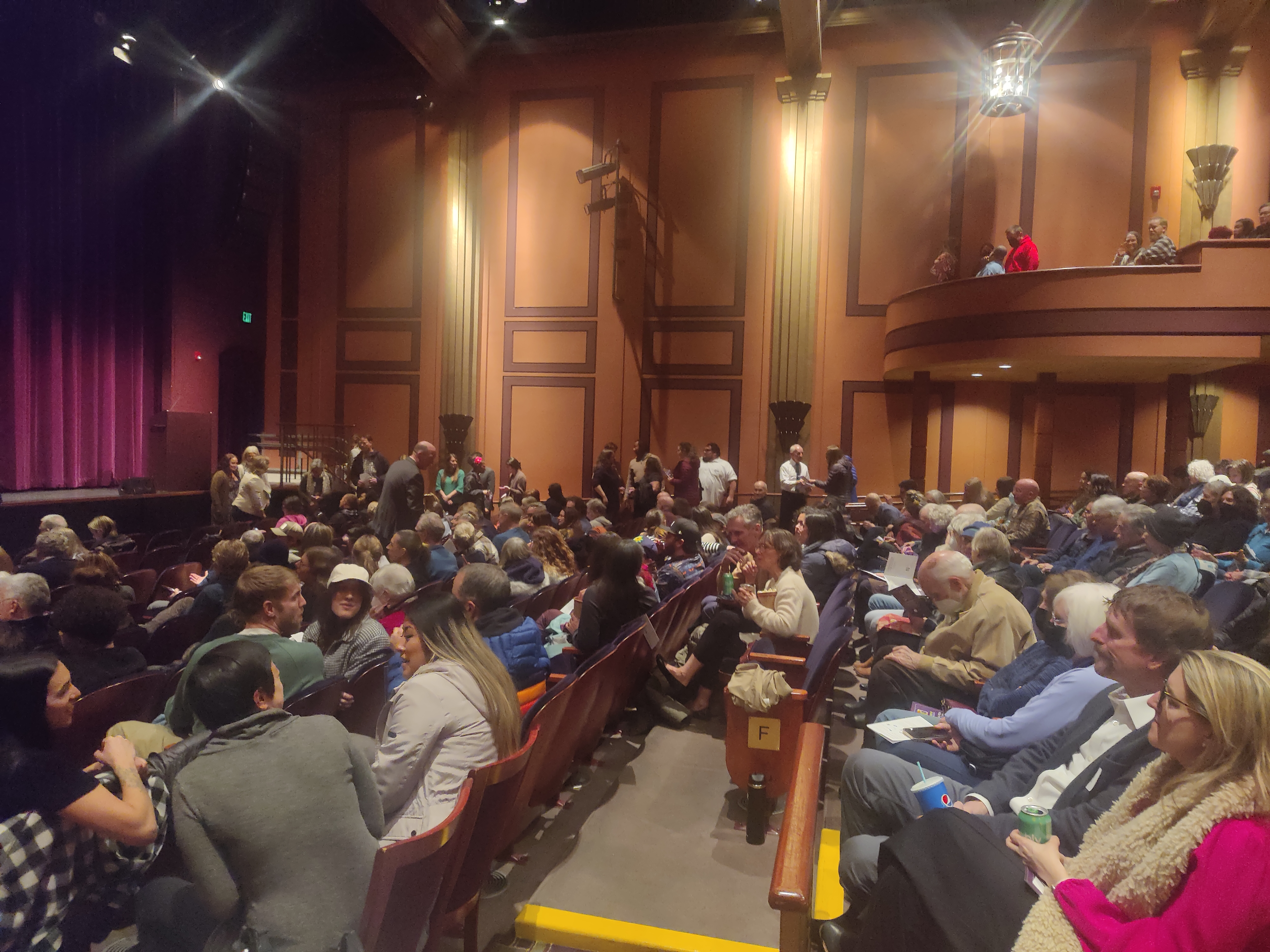 A hot topic introduced by Ndaba was how the land acknowledgments were disingenuous. He explained that the land acknowledgments of COCC don't pay homage to those who had their land stolen, especially when so many others continue to profit from it without pragmatically giving back. Ndaba suggested that absolute acknowledgment would be building institutions like schools, health facilities and businesses with the best interest in mind, of those communities who've been robbed of the land.
During the Q&A segment, Ndaba addressed the same point to an audience member who wanted to know why he should care since he wasn't responsible for slavery or land that was stolen in the past. Ndaba reminded him he should care because not only did his ancestors benefit from the atrocities, but the man who asked the question also benefited from the lineage of wealth passed down from that era. The night ended with a giant selfie of the audience in the background with Ilyasah and Ndaba, on stage. Perhaps the biggest lesson they learned from their fathers that night was how to bring a community together.