Ayla Adkins/The Broadside 
Lilly Moore is a 10-year-old girl who lives in Redmond with her sisters, mother and father. Lilly's day-to-day life is more challenging than the average child as she has Rett Syndrome. 
According to rettsyndrome.org, Rett Syndrome "is a rare genetic neurological disorder that occurs primarily in girls and more rarely in boys. Rett syndrome leads to severe impairments, affecting nearly every aspect of the child's life." Having this syndrome makes Lilly's life very difficult. 
Lilly's condition is known to her family and many people in the community, but it wasn't always this way.
"Lilly was born a happy healthy little girl who was always smiling and engaging with those around her," Becki Moore, Lilly's mother, said. This was in phase 1 of her Rett Syndrome, which means that she had relatively normal development with little reason to think that anything was amiss. 
When Lilly entered phase 2, her mother and father started noticing something was "off" so to say. 
"Lilly began showing various differences from her sisters [at] about 5 months old with not being able to roll over, having moments of blank staring, low tone in her core and crawling issues," Becki said, though these concerns were also combated by milestones that many children reach at this age. 
"She was able to talk, learning how to stand and walk, as well as feeding herself," she said. 
At around 1 year old, Lilly, "started losing the sparkle in her eye" said her mother. She "didn't want to be around people or loud noises and stopped sleeping." 
Many parents know when something isn't quite right, and after Lilly stopped talking, her mother and father knew that something big was going on and sought help from her pediatrician.
After a month of waiting on a genetic test, Lilly was diagnosed with Rett Syndrome at 14 months old. 
Moore said that for three years after this point life got really hard, she called it the "regressive years." "Regression is awful," Becki said. "There is a loss of skills and abilities and family life was hard."
Adapting to all of Lilly's needs was exhausting (in large part because of sleep deprivation) but also because Rett Syndrome just keeps on taking, relentlessly, Becki said. 
One of the most difficult parts, Becki said, is that "our sweet, beautiful happy girl lost the ability to speak, was left unable to walk or crawl and lost purposeful hand function by 18 months. Her neurologic swallowing ability declined so much that it was no longer safe for Lilly to eat or drink, and after experiencing aspiration pneumonia for 9 months a feeding tube was placed."
But the difficulties didn't stop there.
"The morning after her surgery, Lilly began having seizures and thus began the epilepsy roller-coaster. It's so hard watching your child lose so much. There is a painful feeling of helplessness and constantly wondering 'what's next?'" Becki said. 
But Lilly kept fighting and has now entered phase 3 of her Rett Syndrome: skill acquisition and rebuilding. Her mother said that "for the past several years Lilly has been working really hard to gain weight, and relearn the skills she has lost." 
Her family never doubted her intelligence or ability to learn. They try to "give her as many opportunities as possible to get stronger, and continue learning," Becki said. 
This means that Lilly has a very busy schedule, with multiple sessions each week for physical therapy, speech/language, massage, reading and math, on top of all of the tasks of daily living.
Because of Lilly's unique needs, the family has specialists and doctors all over the nation. Becki said that "It takes a large team of really smart people to help us keep our girl healthy and on track. We feel so blessed to have access to these resources." 
"Lilly is always so kind and grants me grace several times daily as we try to go about our days," said her mother. "We are super grateful for days when she wakes up happy. When we can go without seizures, side effects, and/or rescue meds, or they are kept to a minimum."
In all, her mother said that "life is good, we are so blessed to have the love and support that we do and we do not take the little things for granted." 
Health is a big priority in the Moore Family. Stopping to smell the flowers, smile, and be kind is part of their daily goal, according to Becki.
"Every day is a gift and we try to make the most of it," she said.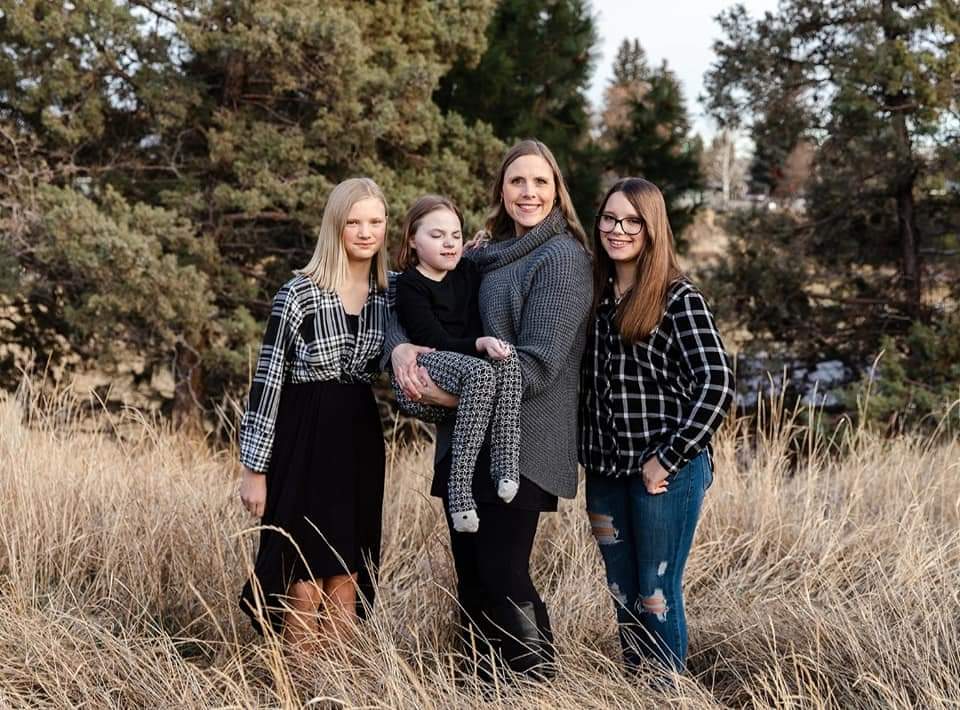 But Lilly is not alone in this battle. In addition to her loving parents, she has two older sisters, Payton Moore, 14, and Aspen Moore, 11, that adore her and understand that life with Lilly is different. 
"Living with a person who has Retts has been a little difficult, most of the attention is given to the person with Retts because they have more needs than most," Payton said. "My sister can't do most things that other people have the ability to do, like walking and talking, she can't do most things for herself so our family has to do most things for her." 
Payton said she understands Lilly's limitations and cherishes the moments she has with her little sister. 
"She talks through her eyes, she looks at you a certain way to tell you what she needs or to say hello and goodbye," she said. "We enjoy having her around and love her so much." 
But that doesn't necessarily mean it is easy.
"We have so much extra work and things to do, like going to hospitals all the time and taking her to physical therapy," Payton said. "We don't get much time to do what we want because we are doing things for Lilly." 
Aspen also knows that Lilly needs a little extra attention. 
"Living with my Rett sister is a little hard because we can't really go anywhere that much and we can't really do things as a family because we are almost always at the house and the hospital trying to take care of Lilly," Aspen said. 
Both Payton and Aspen understand the need for selflessness when it comes to keeping their sister healthy. But no matter the challenges, Lilly is beloved by many and her sisters adore her. 
The community also supports Lilly and is always there to give a helping hand. This has been crucial especially since having a medically fragile child can be so isolating and monetarily expensive, said Becki.
Through fundraising, the family has had an easier time purchasing medical equipment and traveling to appointments that are crucial to Lilly's health. 
"We have been so fortunate to have the 'Make A Wish Foundation' donate a swim spa so Lilly has better access to a therapy pool," her mother said. 
Local clubs, programs, and fundraisers have helped the family tremendously. Becki gives credit to a few off the top of her head, like Sparrow clubs and how they have helped educate community members and school-age children about Rett syndrome, while also helping the family purchase an eye gaze device to help with Lilly's communication. Lilly being able to communicate is a huge milestone and aids everyone around her.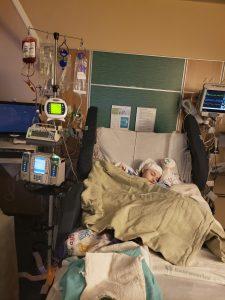 Another big one, said Becki, is when local high school RVHS did a fundraiser to help the family travel to a clinical drug trial site along with medical transportation to UCSF, in San Francisco, for treatment by Lilly's neurology team.
The community also does smaller things to aid the family. Moore said that family and friends have provided meals when Lilly has been really sick/hospitalized to help ease the burden.
Those who meet Lilly might notice she has a lot of tools that help make her everyday life easier. This includes the most recent addition, a 'Bunch Bike.'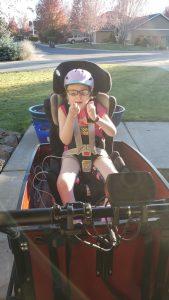 Her mother said that 'Project Connect' in conjunction with other donations helped the family get the special bicycle so that Lilly and I can get some exercise/be outdoors.
This bike is very unique because Lilly has to face whoever is biking due to her commonly having seizures and vomiting issues. 
Another crucial tool is an adaptive stroller made for larger people so that the family can go hiking when Lilly is feeling well, Becki said. 
Along with other things like a special shower chair to make bathing safer, amongst a long list of medical equipment to help support tasks of daily living/physically support Lilly in the day to day: a high-low positioning chair, stander, hospital-style bed, feeding tube/pump, oxygen concentrator, suction machine, AFO braces and a special car seat.
These tools make caring for Lilly much easier both functionally and through comfort, which Lilly is sure to be thankful for. 
Donations and fundraising have impacted the quality and happiness of each family member and the Moore family is extremely grateful. 
Life can get really difficult and Becki said to "lean in with all you have; it won't last forever and reach out when you can't do it alone. It's okay to sometimes not be okay," she continues and said that, "the really tough times are meant to be shared. Thankfully the universe has a way of putting people in our lives sometimes just when we need them most." 
Information about Rett Syndrome and fundraising opportunities can be found on sites like rettsyndrome.org and reverserett.org. These two organizations assist families with Rett Syndrome children and are helping families get closer to a cure through helping labs and researchers, including OHSU in Portland.