What to expect from our town's favorite shred spot.
Kate Couch/ The Broadside
Mt. Bachelor has been officially open for about two weeks. The bustle is absolutely insane. Many skiers and snowboarders alike are overjoyed with Mt. Bachelor, as their team has made great strides to keep the mountain open. Ski area leaders announced many COVID-19 related restrictions and precautions earlier this year about how the mountain would work this winter. Since opening, they have made a few changes.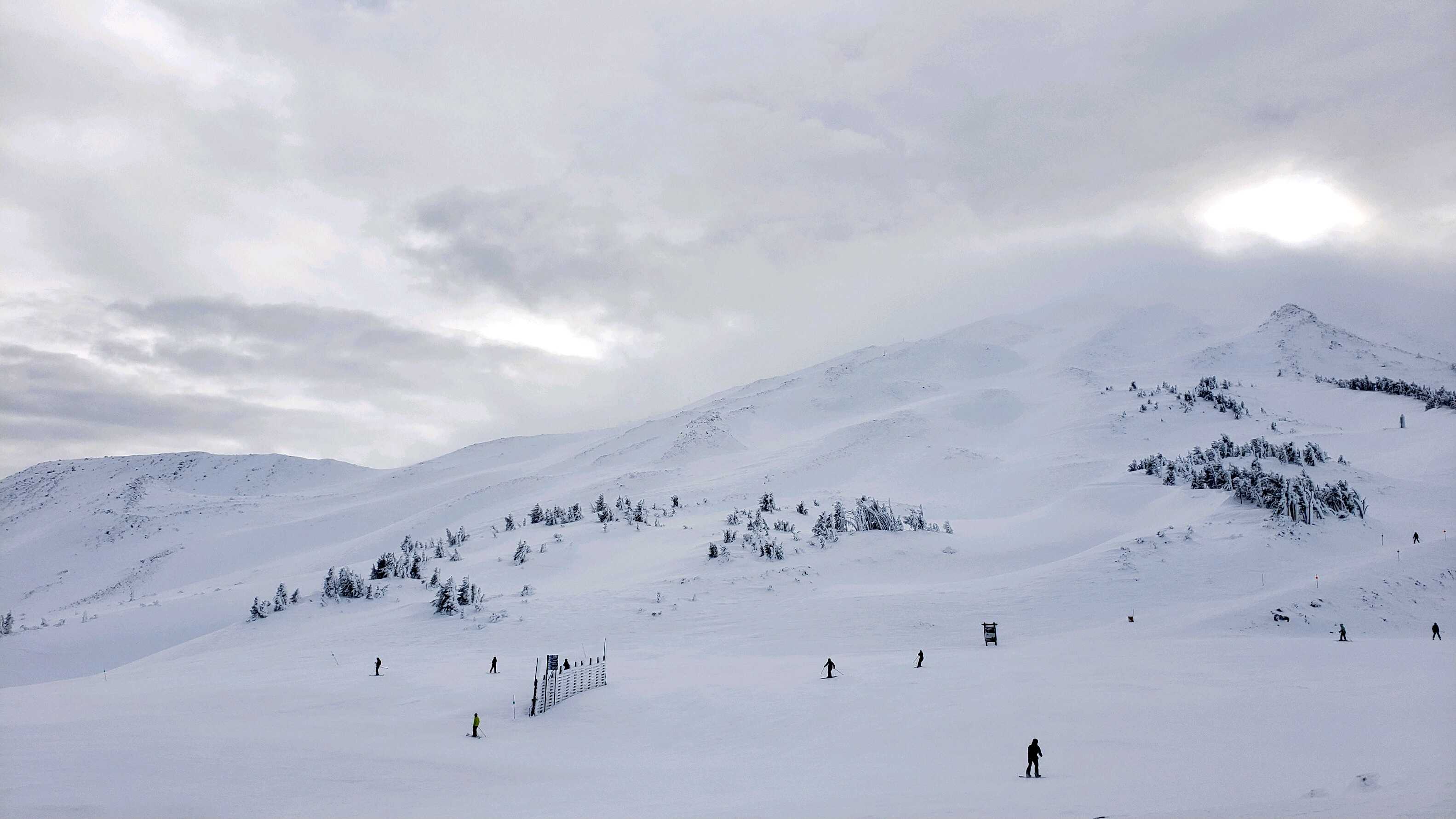 As Mt. Bachelor announced in September you are required to wear masks in the following areas
Parking lots (When workers come to check you in while you're in your car, you must be wearing a mask)
All base areas
Ticket and rental lines
Lift mazes and while loading/exiting lifts
Indoors
This task of wearing a mask is something that most skiers and snowboarders already do on the mountain pre-COVID. Since it's so cold, it's helpful to wear a mask while you're not riding down the mountain anyway. But while you're on the mountain you're welcome to take your mask off.
Many people who have been to Mt. Bachelor in seasons past are familiar with the lodge. Drinking hot cocoa and eating a nice lunch in a cozy spot; unfortunately, their lodges are open to only free glasses of water and rest seating (spaced six feet away with no tables). There are a few food trucks that will be available every day, where you can order food and eat it in the indoor seating at the lodge or their outdoor seating. In both areas, you are required to wear a mask.
While waiting in line, you are also required to keep in mind the distance between you and other guests at the park. The lines to get to the ski lift or ski mazes are most of where you will find this problem. On Saturdays, it tends to be extraordinarily busy and the lines are pretty long. However, weekdays are not as busy, and you will not find yourself near as many people.
Parking at Mt. Bachelor has changed this season. If you haven't already reserved your parking, you probably won't get any as they are booked out nearly every day from December until March. You can get up before the sun rises, to try to get one of their day of parking spots; to reserve your spot for that day.  If this doesn't work for you, you can bribe a friend to drop you off or hop in Uber. Day lift tickets are available to buy, as well as season passes and 12-day punch passes.
Renting gear has been difficult this season. Mt. Bachelor is not renting any gear, and local shops like Powder House Ski and Snow are running out quick.
Regardless of all these restrictions, people are still grateful that the mountain is open and are doing the best to respect Mt. Bachelor's rules to keep it that way.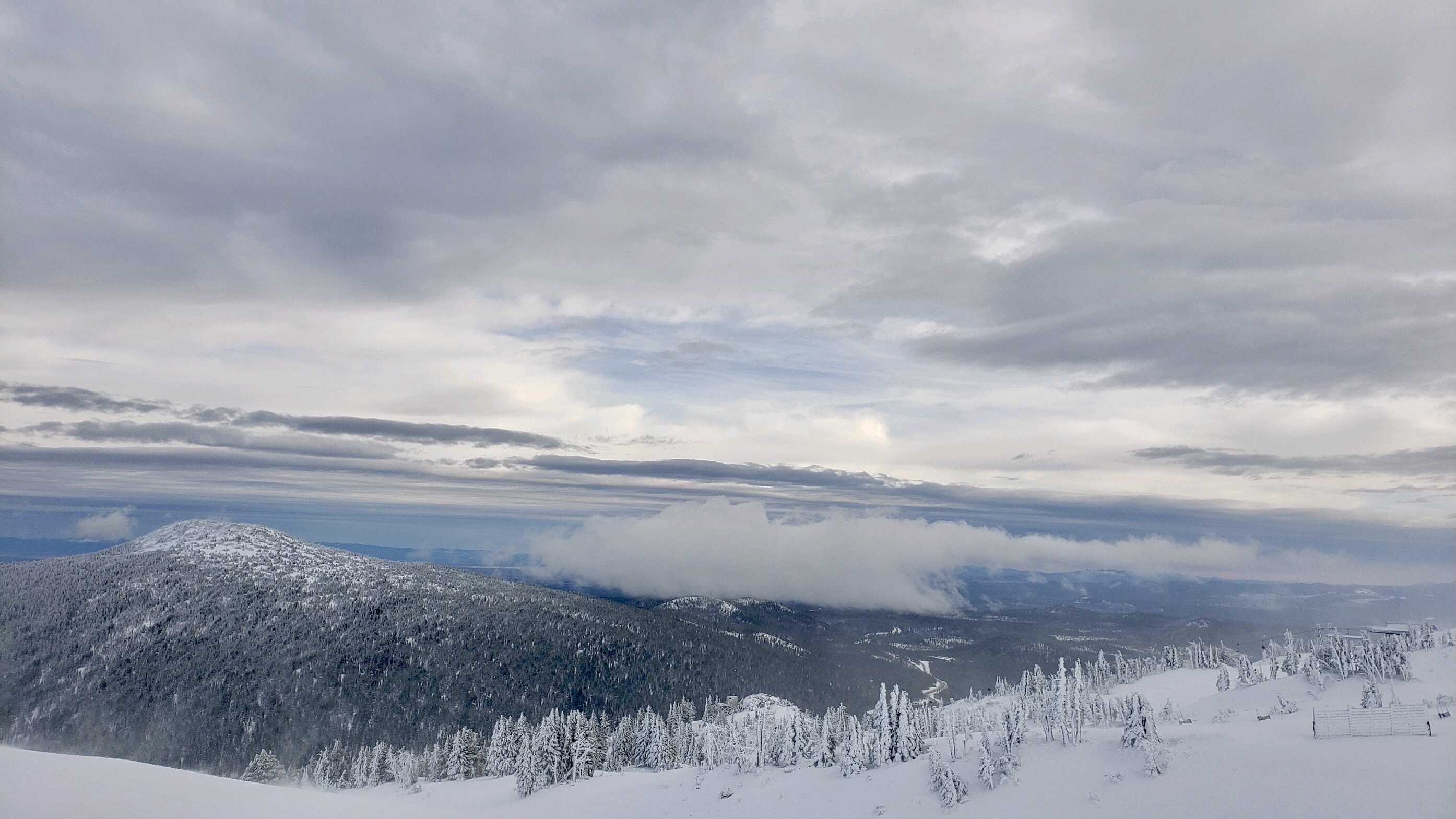 While in line at Mt. Bachelor earlier this season, a man commented about how Bachelor is the only thing it's keeping him "sane."
Austin Breedlove, a Central Oregon Community College student said, "The mountain has always been one of my favorite places and even though these restrictions are tough they're really not as bad as they could be. Mt. Bachelor is doing everything in their power to make it a great experience for everyone. The only thing that I can complain about his parking but at the end of the day I can figure that out it's worth it if I can snowboard."
One COCC student, Peter, who asked that his last name not be used, said…
"I've been skiing and snowboarding at Bachelor for several years — it's an amazing mountain with great employees," Peter said. "This year has been a disaster. They really are not accommodating to the number of people that are in Bend and several people are missing out. I was lucky enough to get a season pass but some of my other friends weren't. I was only [able] to reserve parking for a couple of days. It really sucks, it makes me wonder whether the pass was worth the money or not … I might not be able to get up there enough to make it worth it if I can't get parking."
Other people who were asked seemed to be mad about parking but glad Bachelor was open. It has been a difficult year for fun activities, but many people are glad that they can enjoy a small portion of what Central Oregon has to offer at Mt. Bachelor. So if you do go up to the mountain this season just remember to be respectful of the rules so everybody can enjoy it.