Ayla Adkins/The Broadside
Bend, Oregon, has a large climbing community. After all, Smith Rock was the birthplace of lead climbing. A new gym popped into Bend not too long ago, The Circuit. But 2020 has not been easy on business.
Nikki Gebhart is the Marketing Manager for The Circuit Gym, mentioned the many ways the community can support the gym. This includes "purchasing merchandise, punch card passes, and keeping your membership (if you are able)."
Gebhart said that they "offer a free first visit for you to check out the gym," along with "$5 Fridays once per month," with more details are available through Circuit's social media channels.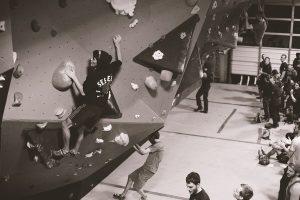 Interacting with the Circuit through social media is also a big help when stopping by the gym isn't an option.
"In the virtual world, we'd love for you to follow + engage with us on our Instagram! We also greatly appreciate Google + Yelp reviews," Gebhart said.
Right now, there is a T-shirt design contest through Circuit as well. Information can be found on their social media platforms, but the basic rules are to submit a black and white design (8.5″x11″) by Dec. 7 at 5:00 p.m. to [email protected] and have the opportunity to win a one-month membership and a free T-shirt with the design design.
Later in the year once COVID has settled down, they also plan to offer classes in-person. Gebhart said that, "We also have virtual yoga + core classes on our Facebook page. You can tune in live or watch previously recorded lessons at facebook.com/CircuitBolderingGym/live_videos," The courses they do offer in-person (mainly youth programs) can be found on their website.
"This year has been challenging for us as I'm sure it has been for so many businesses. But we are incredibly grateful to our community for their support and adaptability," Gebhart said.
The Circuit is looking forward to the day when they don't have to "limit capacity or wear masks," but are very grateful for those following protocol.
Gebhart also wanted to shout out an opportunity they have, "Butora is donating 35% of sales made with our code back to our gym. If you're doing any holiday shopping for yourself or others, then be sure to check them out and use our code C4G-thecircuitgym."
The Circuit is also excited to open their climbing bar for, "climbers who want a post-sesh beer," said Gebhart, which is a perfect fit for Bend.
Gebhart said that when, "things are back to normal, we hope to be able to throw a proper grand opening party. We will also have more climbing events like our Scrabble Boulder Battle and Circuit Bowl. And expect a lot of smiling faces when masks aren't required again!"