Kirsteen Wolf
The Broadside
Samuel Pyke is not afraid of the sight of blood.
The OSU-Cascades student is completing his liberal arts degree with the help of a 10-credit internship project that led him to film surgeries in Ecuador's busiest city Guayaquil.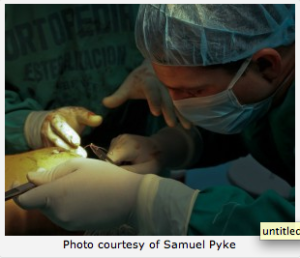 Pyke went down to Ecuador at the end of June 2011 to meet with other students from the group Cascades Medical Ambassadors. CMA was started by Casey Husk, a COCC and OSU-Cascades student who spent time at Luis Vernaza Hospital in Guayaquil as a volunteer in the summer of 2010 and came back with an idea to expand the experience to other students.
On CMA's visit to Luis Vernaza last summer, they took several volunteers and 50 thousand dollars in donatedmedical supplies with them.
Pyke caught it all on film.
Pyke's degree in media communication and story production dovetailed with the CMA trip. When he first heard about the group's plans he thought that it would make a great documentary and eventually got the go-ahead to film from his professor.The entire trip down was funded with money from OSU-Cascades student fee committee ,his personal money and some from his parents.
And he wasn't entirely surehe would be able to film anything.
"It was a big gamble but it paid off," he said.
Pyke's filming encountered several setbacks. In three weeks Pyke was told he couldn't film three times, the last time by the Board of Education in Ecuador. Luckily that final word came only five days before Pyke left.
"There was a lot of politics," he said.
Pyke asked permission of all the patients before he filmed them. Once his goal for documenting CMA's volunteer students was made clear "pretty much all of them said 'yes'" he said, even at their most vulnerable times.
The other aspect of service learning that CMA provides is the cultural exchange. CMA volunteers absorbed more than just medical information, they were seeing health care from a different angle. Pyke described this as the "social aspect of different medical systems."
But the medical experience was the draw. The students participated in procedures that emergency room nurses wouldn't be allowed to do in the U.S. according to Pyke. All under the careful and constant supervision of the Luis Vernaza doctors, many of whom are thanked on the CMA Facebook page.
"[Volunteering with CMA] allows you to decide if you want to go into medicine without spending four years and thousands of dollars," said Pyke.
But you have to want to go to Guayaquil, and it's not for everyone. From gun shot wounds, motorcycle accidents and perforated bowels, you have to know what you're getting into.
Pyke's film will be shown at the COCC Campus Center in Willie Hall from 12 to 1 p.m. and from 6 to 7 p.m. on Wednesday, Nov. 16.
(contact at: [email protected])