So far in 2016, thirty-six officers in the United States have been killed in the line of duty. In order to honor all men and women who have fallen in the line of duty, the Criminal Justice club hosted a memorial on Tuesday, May 17.
It was National Police Week, which falls every year on the week of May 15.  In a joint resolution of Congress in 1962, President John F. Kennedy proclaimed May 15 National Peace Officers Memorial Day and the calendar week in which May 15 falls, National Police Week.
"Each day, men and women of law enforcement put themselves at risk to keep our community safe and secure," said Kelly Huskey, Member of the Criminal Justice Club at COCC.  "Most return home each day or night to their loved ones, but some are called upon to make the ultimate sacrifice," Huskey continued.
One officer in Oregon has fallen during duty this year according to the Bend Police Chief James Porter. "[he passed] while trying to apprehend a felon.  He was shot," said Porter.
Goodding was an officer of the Seaside Police Department, the third fatality this year in the United States and the first law enforcement fatality in Oregon.
"It is a heavy burden that each police officer accepts," Huskey said, "They know that without their courage there would be no security and without their sacrifice, there would be no justice."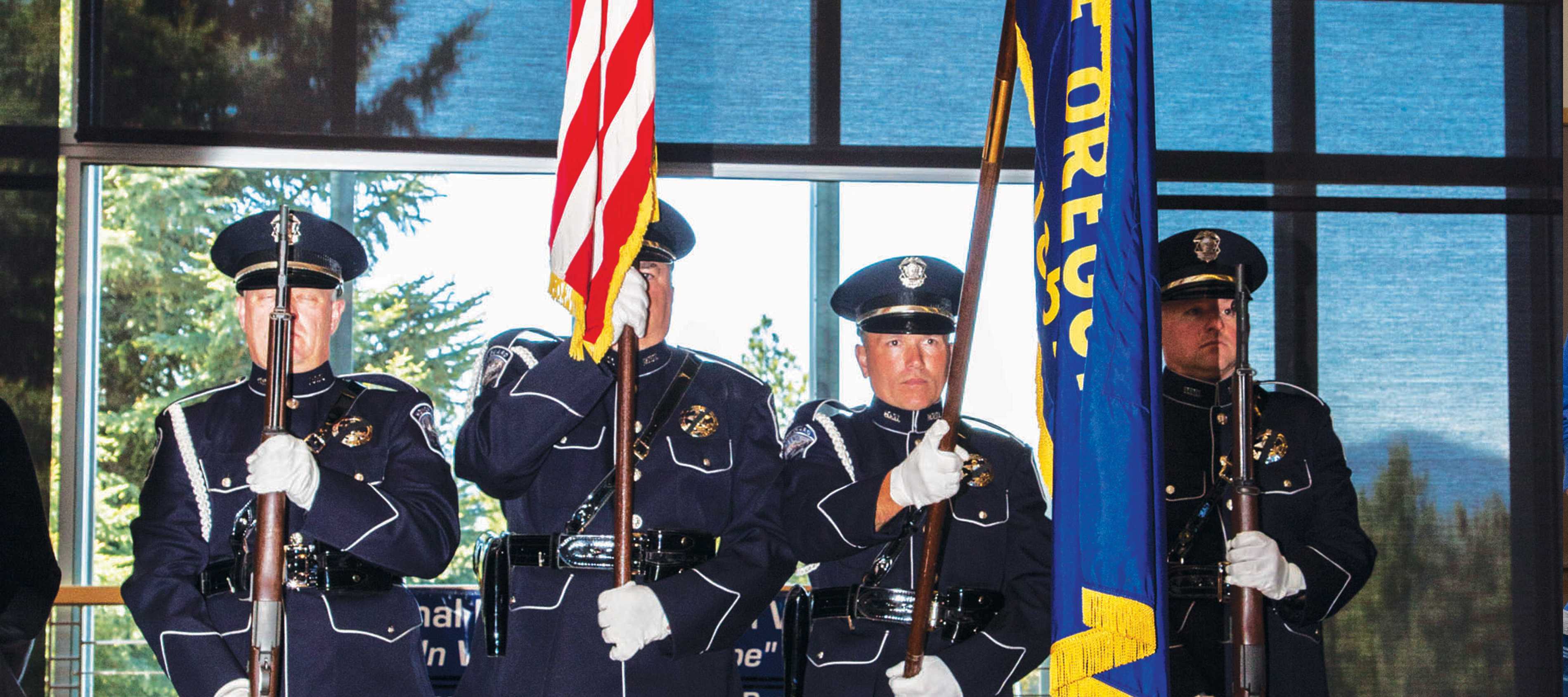 The COCC Criminal Justice Club hosted the memorial and has done so for the past six years.  "I am proud of Kathy McCabe and the Criminal Justice department for organizing this memorial," said COCC President Shirley Metcalf who was in attendance on Tuesday.
"It is important to bring national attention to the risks that the men and women in law enforcement take," said Kathy McCabe, Adviser of the Criminal Justice Club.  "So often Police officers are looked at in a bad light through the media, but that is only a small percentage of what police officers do day in and day out."
There are more than 900,000 sworn law enforcement officers who serve in the United States, according to the National Law Enforcement Officers Memorial Fund.
"We are in a profession of honesty, truthfulness, and above all service above self," said Porter.  "Every year we come back here and honor those we have lost in our career field.  Those professionals who have given the ultimate sacrifice, who leave their families behind at night, leave their children behind, to protect other families and other children."
The Bend Police Honor Guard performed a wreath laying, a ceremonial tribute to those men and women who have fallen.  "It is an important, albeit, sad reminder of those men and women who have fallen.  It is important to take at least one day to recognize what it takes to be a law enforcement officer," said Jim Burnett, officer of the COCC Campus Public Safety who attended the memorial.
"My hope today, is that you remember that the officers you see tonight, tomorrow, and next week, have families who love and care about them," said Huskey in closing.
Dylan Bailey | The Broadside
Contact: [email protected]