Lacrosse might soon become a common sight on campus.
Despite a lack of interest in the past to start up a Central Oregon Community College lacrosse team, the Athletic Department is seeing interest yet again. For the time being, it is likely to be an intramural sport here at COCC if enough people sign up.
Bill Douglass, Director of Club Sports and Intramurals, said, "Right now we're just looking at the interest of people who want to play."
With all three prominent Bend High Schools (Summit, Bend, and Mt. View) already competing in the Oregon High School Lacrosse Association (OHSLA), it certainly seems that graduating high school students will want a local platform to compete at the next level.
"If there is enough people playing we will eventually try and join a college club league." Douglass said, "if everything goes well, we'll look to hire a coach for a real team to compete against other colleges."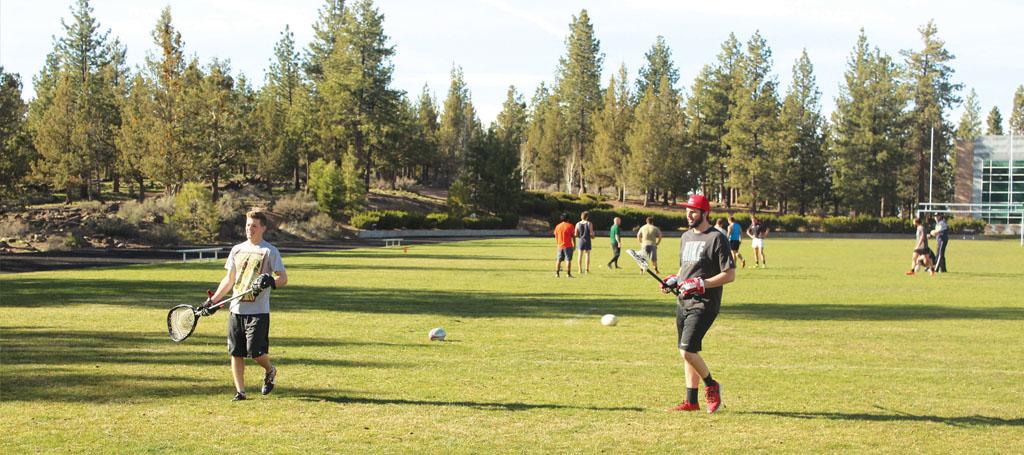 Lacrosse, mainly a popular sport on the east coast of the U.S., has been making its way to the west via popular demand. The game is a little like soccer and hockey combined, with its own unique feel. Players carry a lacrosse stick(crosse) that is suited to catch and carry a small ball, the ball is then passed amongst teammates until it is eventually scored in a small goal which is protected by a goalie. Lacrosse is a full-contact sport which requires a helmet, shoulder pads, and elbow pads.
The Athletic Department is currently in the process of holding a spot on the athletic field specifically for lacrosse practice on Tuesdays at 5 p.m. Players don't need to bring anything other than cleats and athletic wear, all other equipment(crosse and helmet) will be provided by COCC.
Anyone interested in participating in COCC lacrosse should contact either Bill Douglass or Matthew Greenleaf, in the Mazama Gym, room 111 or by email at [email protected] or [email protected].
Jose Alvarez | The Broadside
(Contact: [email protected])