If you go up to Pence you may hear the humming and squealing of pottery wheels. That's probably the Ceramics students working hard on a cup, bowl, plate, or many other creations.
For the students who have been in ceramics classes all year, it may be hard to find a place for all the assignments they've created over the terms so on June 5-6 they have a chance to clean out their collection.
Pence Room 226 is where the Semi-Annual Ceramics art sale will be held on June 5th from 9 a.m. to 4 p.m. and June 6th from 9 a.m. to 2 p.m. Every student who has been in a Ceramics class this school year can sell any piece they've made in those classes and anyone is welcome to come check out the sale.
"There's amazing work at very reasonable prices," said Kate Miles, the Administrative Assistant for the Fine Arts and Communication department. The department is estimating there to be around 100 pieces in the sale this year and all the funds made at the sale will go to the individual student who is selling the piece.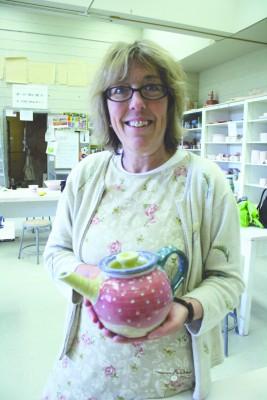 Savannah DeBudge | The Broadside