The Broadside interviews Sen. Jeff Merkley, D-Ore.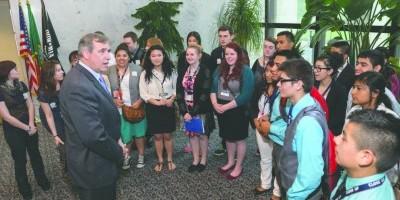 Oregon's senator is spearheading an effort in Congress to reduce the interest rates of student loans. Jeff Merkley, D-Ore., introduced the Bank on Students Emergency Loans Refinancing Act to legislature May 6 in an attempt to combat the rise of student loan debt. Merkley teamed up with Senator Elizabeth Warren, D-Mass., for an act that "goes to the core of whether every American gets an equal chance to reach their full potential," according to Merkley.
Lowering the price of loans
A decade ago, student loan debt was one-third the amount it is now. Now, American student debt tops $1 trillion, and for Oregonian graduates, the average amount of loan debt totals more than $24 thousand by graduation. That amount of debt is worth addressing, according to Merkley.
"Student loans have become a crisis that we must tackle head-on," Merkley said. "Student loan debt is holding back individuals from pursuing their dreams, and it's hurting our economy."
The piece of legislation Merkley is co-introducing would mainly address high interest rates. The purpose of the Federal Student Loan Refinancing Act is to let students and graduates refinance student loans with pricy interest rates. Whether that applies to a wealthy or financially-stretched student wouldn't matter, according to Merkley.
If passed, the bill would have some exceptions. Only students in good standing with their public or private loans would be able to refinance.
While the bill would be slightly selective, many students would still qualify, and possibly have a significant decrease to loan rates.
That could impact several college sectors in a good way, according to COCC President Jim Middleton.
"It could have a positive impact on a lower loan default rate for COCC, a result that helps COCC as its participation in [the] Federal loan system is reviewed," Middleton said.
So far, the Warren-Merkley legislation is expected to form part of June Senate debates on college affordability.
Meanwhile, the bill gathered 23 co-sponsors in less than two weeks – equivalent to nearly one-third of Senate. The Senate is expected to debate on college affordability sometime in June.
It's a promising initiative, according to Middleton.
"Though we do our best to counsel students to consider their capacity and strategies for repaying educational debt, many students don't give this the attention needed at the time they are borrowing," Middleton said.
An up-close look
Merkley "grew up in a blue-collar community," and for him, that makes the rising costs of student loans personal.
"I'm surrounded by folks who face the challenge and uncertainty of whether they're going to be able to afford to pursue their dreams," Merkley said.
Merkley was the first in his family to attend college, and according to him, since then the costs of higher education have risen significantly. Students taking out new undergraduate loans pay a rate of 3.86 percent under the Bipartisan Student Loan Certainty Act, which was passed by Congress the summer of 2013. And many borrowers with outstanding student loans now have interest rates of about seven percent, according to Merkley. Recently, over 30 percent of Federal Direct student loan dollars are either in deferment, forbearance or default.
"Student loan debt is holding back individuals from pursuing their dreams, and it's hurting our economy," Merkley said. "As the first in my own family to go to college, I feel strongly that higher education should be accessible and affordable to every student who wants to pursue it."
Merkley's goal is to pay for the Bank on Students Emergency Loans Refinancing Act by setting a minimum tax rate on people who make more than $1 million a year to keep their tax rates equivalent to lesser incomes.
"Right now, many of the highest-earning people in America actually pay lower tax rates than middle-class Americans," Merkley said.
However, Middleton did express concerns about the funding plan.
"Increased taxes on higher income individuals can reduce resources they have for spending or investing in economic development," Middleton said. "This option should be considered in reference to other funding options."
Merkley also believes the government profit on student loans is unwarranted. The Government Accountability Office projects the government will take in about $66 billion on federal student loans made between 2007 and 2012.
"In the long term, we also should change the fact that the federal government is profiting off of students loans to the tune of billions of dollars," Merkley said. "That's money that should be reinvested in students and affordable education."
Merkley is also backing a "Pay It Forward" model in Senate, which was developed by Oregon students. The plan would allow students to replace loans with a "Pay It Forward" grant, which would take a small percent of their future income and use the money to fund grants for the following generation.
Overall, according to Merkley, his main goal is to make student loans more doable for both Oregon college students and students nationwide.
"This issue goes to the core of whether every American gets an equal chance to reach their full potential," Merkley said. "I believe strongly that no matter who you are or where you come from, you deserve that fair shot to get ahead."
Junnelle Hogen | The Broadside
(Contact: [email protected])