Does college policy restrict First Amendment rights?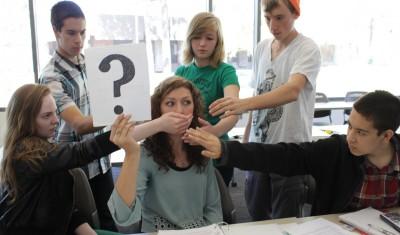 How much free speech do you really have in the classroom? Chemeketa Community College recently changed their free speech guidelines and created "free speech zones" on campus. Though Central Oregon Community College does not have such areas, professors and students are granted "academic freedom" within the walls of the classroom, according to Jon Bouknight, head of the COCC speech department.
COCC's faculty contract says "academic freedom is essential to the fulfillment of the purposes of education. … Thus, an [instructor] is entitled to full freedom in research and in the publication of the results. A member is entitled to freedom in the classroom in discussing the subjects, but he/she should be careful not to introduce into the teaching controversial matter which has no relation to the subjects of the course."
This, according to Bouknight, gives the instructor freedom to "talk about anything they want," as long as they can relate it back to the original class subject.
"The topics we teach in class can change, and the curriculum can can change, but as long as we follow the guidelines, its okay to be controversial," Bouknight said. "I hold back controversy for controversy's sake."
In teaching, instructors have the freedom to speak honestly to the class but "cannot violate the students' personal rights," according to Dr. Charles Abasa-Nyarko, vice president for instruction at COCC.
"Even though professors do have academic freedom when it comes to teaching in their classroom, they have to be responsible and conscious of students' own rights and beliefs," Abasa said,
The policies currently in place at COCC are in place to allow for more student freedom.
"Another person's rights begin where your nose ends," Abasa-Nyarko said.
Bouknight and Abasa-Nyarko stress that when it comes to free speech, the speaker has to be conscious of others as well as understand the campus noise restrictions, approval policies, and sanctions that come when not only policy but rights were crossed.
Brayan Gonzalez | The Broadside
(contact: [email protected])