Illustrations, ceramics, sculpture, metalwork, photography and more are judged by award winning artist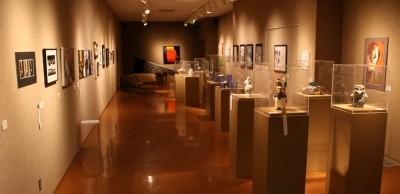 Cecelia Kirth has never shown anyone her life's worth of drawings. She has books full of drawings from childhood to now, but wasn't aware anyone would like what she draws.
Everything Kirth draws, she draws from her mind.
"Whatever I'm thinking when I read the book, I make pictures in my mind," Kirth said. "I see pictures when people talk to me and they're in full color, not black and white."
When art instructor Isaac Peterson saw Kirth's work, he encouraged her to submit her work to the annual student art show at Central Oregon Community College. Kirth ended up winning first place in the Illustration category.
"It really makes me excited," Kirth said. "This kind of art style is coming back."
Every year, the student art show brings hundreds of student submissions, and this year the art department brought help from Portland to judge which ones should be the winners. Regionally award-winning artist Bruce Conkle drove from Portland to judge the contest.
"It's cool to have an interaction with the Portland art scene," Peterson said.
Out of 200 submissions, Conkle chose _ to display and _ winners in _ different categories. The contest is a morale boost for the whole of the art department, according to Peterson. Professors get to show each other their prodigies, and students get encouragement from people outside their own teachers.
"It really pulls together the whole community," Peterson said. "You see that there's an art professional that likes what you do. …It makes it more objective."
Students brought all mediums to the table with their one dollar submission fees. Illustration, ceramics, sculpture, 2- and 3-D design, metalwork, photography and watercolor pieces are all featured in the art show.
Josh Bickford, who received an Honorable Mention for Illustration, uses common ballpoint pens to just doodle and creates pieces from that. Stuart Shaw, the artist behind "Imperial Rebels Smuggling Bounties" (below), used his love for Star Wars and skills from his Abstraction and Multimedia class at Oregon State University-Cascades to create the banner. Shaw received an Honorable Mention for 2-D design.
All students get nervous for their work to be judged, according to Peterson, but rejection is just as good experience as acceptance.
"It's good competition," Peterson said. "The show is full when you see it. It could not be more full."
Scott Greenstone | The Broadside
(Contact: [email protected])