Club seeks to give support to "non-traditional" students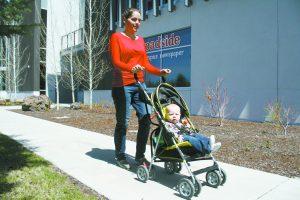 If you're a student parent, the college offers no resources for campus childcare. The newly-formed Moms and Dads on campus club intends to speak out about that while supporting student parents.
"I feel like if there's enough of us saying 'Here we are,' that could ultimately help add to the support for getting grants for having childcare resources," said Lauren Hamlin, a Central Oregon Community College student who spearheaded the club.
Hamlin wanted a way to connect her home life with her school life. With a nine-month-old son, the Tourism and Outdoor Leadership major has faced the challenges of coordinating childcare.
"A lot of my life revolves around having a child," Hamlin said. "I didn't see a lot around campus that supports non-traditional students."
Hamlin decided to change that by starting the Moms and Dads On Campus Club early this year.
The club will not only be for students but faculty members with children, and Hamlin hopes the club will be a resource for student parents.
"I see it being a way for parents to connect with one another and I hope it would make a strong presence for student parents on campus," Hamlin said.
Though past efforts to get childcare on campus have not succeeded, Hamlin hopes the club could support future efforts. The club's advisor, Early Childhood Education professor Amy Howell, founded Paw Prints, a program where where students can bring their children and have free childcare while they study for finals.
"We have had a few efforts on campus to support our students who balance work, family, and education through our Paw Prints programs, but this is an exciting club that really addresses a broader campus need," Howell said.
The main goal of the club will be to take an active role in promoting awareness of the "unique complexities" that students face when they balance family and school as well as supporting students in that situation, according to Howell.
Howell also believes the club will raise "awareness and creative compassion."
"Our students are some of our most committed individuals. They know the realities of prioritizing between studying for an exam, writing a term paper, and taking care of the children in their lives," Howell said. "In my 10 years at COCC, I see incredible strengths in our families on-campus."
Another goal of the club will be to create an early interest in college for the students' children, according to Howell.
"It's interesting to consider that our parents are in a unique position to ignite in their children a desire to attend college," Howell said. "When children know about college by watching mom, dad, grandma, or older siblings, it's quite powerful."
For the future, there could be potential to have the club partner with the COCC early childhood education program so students could get childcare and ECE students can get applicable practice.
"As a mother of children myself, I understand the persistent feeling of striving to make all of the pieces fit," Howell said. "One of the best feelings of the year is at graduation. Look out into the crowd and you will see hundreds of people cheering. In the midst of the excitement, look for the small arms reaching up and celebrating."
Molly Svendsen | The Broadside
(Contact: [email protected])