With opportunities for validation and recognition in the arts and humanities drying up, Bend's Nature Of Words festival is still providing a "launch pad" for writing voices.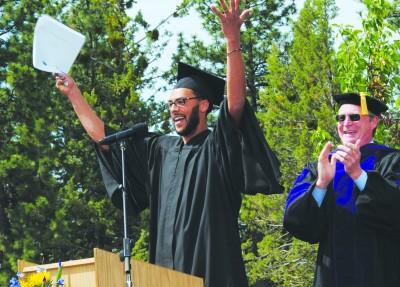 Bend-based organization The Nature Of Words is holding its 9th annual Rising Star writing competition in June.
"It's important for our community's writers to be heard and contribute to our nation's larger literary tradition," said Amy Mentuck, executive director of The Nature of Words. "Rising Star was created as a launch pad for these voices."
The Nature Of Words organization was founded in 2005 by Ellen Waterston and began as a festival featuring award winning authors in readings, workshops, lectures, and panel discussions.
There are multiple programs within The Nature Of Words, such as Words Without Walls, offering creative writing in public schools, alternative education, and social welfare programs, and The Storefront Project, which offers bi-weekly free drop-in creative writing classes for both youth and adults in Central Oregon. The Nature Of Words continues to host monthly workshops, readings, and other events, in addition to their now-yearly festival.
One of the judges of this year's Rising Star competition, David Jasper, is a reporter at Bend's The Bulletin. Jasper has been a journalist for 18 years and has covered The Nature of Words in the past. This year, he will be the judge for the Creative Nonfiction submissions. This section is a personal style of writing, a sort of memoir, with an element of creativity, according to Jasper.
Emily Carr, program director of OSU-Cascades' Master of Fine Arts program, will be judging the Poetry category. Carr has been writing all her life and before her current administrative position taught poetry and creative writing courses. From a young age, Carr entered and won writing competitions, and according to Carr, internalizing her personal accomplishments has helped her become a strong advocate of inner accomplishment in relation to writing.
"I am part of a movement of talking about the writer as a whole person and their contribution to the world in a tangible way. Reframing how we talk about our success and each other is important," Carr said, "and also, on a personal level, finding the right perspective and where your priorities are."
Typically all entries are unique, and Carr said she will essentially be looking for "originality and a sense of personality," in the submissions.
The Nature Of Words mission statement is "to strengthen and support the literary arts and humanities in the Central Oregon high desert region through community interaction with acclaimed authors and creative writing programs for students and adults."
Jasper encourages everyone, regardless of whether they think they really have what it takes to win.
"Don't hold back," Jasper said. "You can't win the lottery if you don't buy a ticket."
Kyleigh James | The Broadside
(Contact: [email protected])