The veterinarian technician program will graduate their first class of students in Spring 2014. National accreditors for the program visited the campus from Jan. 29-31, a standard process for new programs, according to Matt McCoy, vice president of Administration at COCC.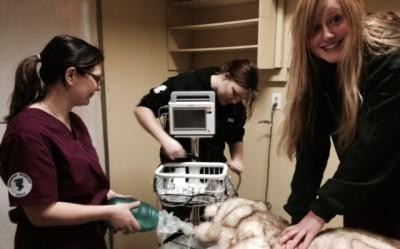 "Any new program needs to be accredited," McCoy said. "The accreditors came and looked at the facility and gave recommendations."
These recommendations ranged from minor things like labeling bottles to larger changes such as adding a radiology lab.
Program administrators are in the process of completing the purchase of the Brightside event center, which will then be remodeled to be a training building for vet tech students. Accreditors reviewed the remodel plans during their visit and recommended a radiology lab be incorporated into the design, said Jenni Newby, COCC instructional dean.
"We hope to have this building functional for training by fall term," Newby said. "We have addressed most of the recommendations at this time."
At this time, accreditation has not been granted to the college, according to Newby.
"We hope to have provisional accreditation by spring so our first graduating class will be able to graduate from an accredited program," Newby said.
The addition of this program to course offerings at Central Oregon Community College is a result of demand in the community, according McCoy.
"It is wonderful that the college is responding to a need in the community," McCoy said. "Enrollment in the program proves pent-up demand."
Previously, those interested in a vet tech position were not required to have a degree from an accredited institution.
"Before, you could be hired on as a vet tech at a clinic and be taught the skills on the job without having to have a certificate," Newby said. "The standard has changed in the industry and now you have to graduate from an accredited program."
Molly Svendsen
The Broadside
[email protected]