Cedar Goslin
The Broadside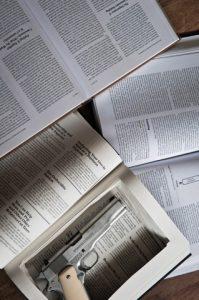 Though gun bans posed by the Oregon Board of Higher Education have been challenged, Central Oregon college students will still have to leave their guns at home, whether they have a permit or not.
The Supreme Court ruled in September 2011 that the ban of guns on University campuses imposed by the Oregon Board of Higher Education was in violation of the Concealed Carry Act. Though universities have had to revise their rules, Central Oregon Community College and Oregon State University-Cascades are so far unaffected. Community colleges are under the jurisdiction of local boards, and so are exempt from the rule changes made by the Oregon Board of Higher Education.
Though OSU-Cascades is technically a university campus, it too is exempt from the lift of gun bans because the building is owned by COCC, and when the campus formed it was agreed upon that they would follow COCC rules and regulations.
"It's not really a shared campus as far as rules go," said Ron Paradis, head of college relations.
Currently, COCC's policy states that "no firearms, ammunition, or fireworks of any kind are permitted to be carried or used on campus except by authorized civil authorities in charge of their duties."
Though community colleges have yet to be challenged on their gun policies, according to Paradis there have been meetings to discuss the issue.
"We have chosen not to adjust the policy since the court case was determined at a state level," said Paradis. "We don't know how it affects us directly."
If COCC ever had to transition into a campus that allowed firearms, according to Paradis, complications would arise. One of the biggest issues that campus security is not armed. Whenever campus security is called to assist with a situation which is deemed hostile, they contact the Bend police. Allowing concealed weapons on campus would increase the chance that any student could have a gun, heightening the potential danger of any situation. It is currently being discussed whether or not security officers would be armed in response to COCC becoming a carrying campus, according to Paradis.
If concealed weapons were allowed on campus, changes would definitely have to be made, said Rob McDilda, head of campus security, whether that means retraining the security staff or bringing member of the Bend police permanently to COCC. Even aside from the complications that it poses to the current security policy, McDilda said that allowing firearms on campus wouldn't be condusive to a learning environment.
"It would make a lot more people nervous," said McDilda. "A logical person would reason that a civilian carrying a gun wouldn't have the same training as an officer." McDilda predicted that the knowledge that any student could be carrying a gun would result in more calls to security.
But the matter is two-sided, according to Gordon Price, the director of Student Life. He said he thought some students would feel less safe while others would actually feel safer with the ability to carry their own guns, or the knowledge that other students had them for self defense. However, Price said that he still doesn't see the need to allow firearms on a college campus. He thought it could make professors more nervous about what they say in classes, as well as increase the risk for an accident.
"If folks are allowed to carry that weapon on campus, that's an obvious increase in the risk," said Price.
So far, there has been no indication that COCC's policy on firearms will be challenged, and Paradis said he hopes it stays that way.
"These procedures are in place because we believe the campus is safer without guns," said Paradis.
(Contact:[email protected])