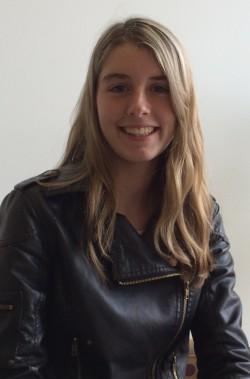 Anndi Adams does not live in this world: She has made her own.
Anndi Adams has been writing science fiction since the third grade. Now 16 and attending Central Oregon Community College, Adams is still creating her own worlds.
The freedom that writing offers draws Adams to the craft.
"I can put anything I want to happen in there, morph anything to how I want to see the world," explained Adams.
Concepts for stories and sparks of inspiration drove Adams to a notepad, but they would usually remain unfinished as Adams moved to the next idea. It was not until a chance meeting with another fellow storyteller in the third grade that Adams really began to think seriously about writing.
"[W]hen I got someone to read my stories and comment on them, and have a reason to write them," explained Adams, "… that really just kept me writing."
Adams has always been an avid reader, consuming science-fiction book after science-fiction book until she noticed a change in her own writing.
"I felt like I was stealing it," commented Adams, "reading the same form as what I was writing."
Now still a voracious reader, Adams tends to stray away from other works of science fiction.
Anndi Adams does see writing as a potential career for her, though having other jobs is very much a welcomed option.
"I actually want to have other jobs besides writing, so I can get more experience for my writing," Adams said.
She plans to continue writing for as long as she can. To date, Adams has written a 400-page novel. It took her two years to complete this first stage.
"[I]t was just the right story and the right time," Adams said.
It is the idea behind crafting a story, and then sharing her ideas and experiences with others, that Adams loves about writing. Often, Adams is "hundreds of miles away" dreaming up her next story.
"I don't live in this world, I live in the world of my books," Adams said. "The only time when I'm in this world is when I'm observing people to better enhance my books."
Cooper Malin
The Broadside
[email protected]