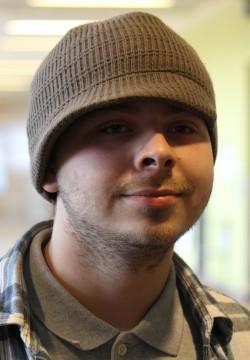 To Joshua Clifton, music is "one of the coolest forms of communication ever."
"You can put your own spin on things and you can always tell who is performing based off their specific music style," Clifton said.
After taking a music theory class in his senior year of high school, Clifton was inspired to begin arranging music.
"My high school music theory instructor was so passionate about music and arranging pieces and that really just sparked an interest and opened up this whole music scene," Clifton said.
This interest in music has guided Clifton's career path and he is currently a second year music major at Central Oregon Community College. Clifton's main focus in music is vocal performance and specifically acapella music.
"Acapella is done entirely with the voice," Clifton said. "I love the idea of being able to take an instrumental song and make it vocal. When good acapella is performed it doesn't even need a microphone, it can be performed live."
Clifton has already arranged and performed a wide variety of acapella covers from contemporary musicians.
"I took a special interest to arranging covers," Clifton said. "I've arranged acapella cover music for everything from Titanium by David Guetta to Royals by Lord. It is always an exciting challenge to take a modern song and create a unique cover for it. Studio acapella is harder because it is all done electronically instead of regular acapella done just with the voice."
One of Clifton's musical inspirations is his music professor at Central Oregon Community College, Jim Knox.
"He is a genius pianist and great vocalist he can hear the craziest chords," Clifton said. "What he likes to do and is so passionate about and how willing he is to help has been a real inspiration for me."
Clifton hopes his degree will help fulfill his dream to be a teacher, music arranger, and composer.
Molly Svensdsen
The Broadside
[email protected]