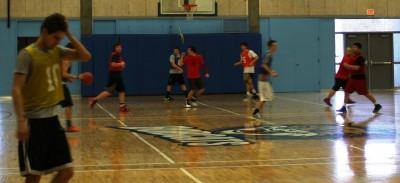 The two buildings closest in proximity to the chosen spot for COCC's incoming residence hall — Mazama gym and Barber Library — will be heavily affected by the change.
Barber Library
Barber Library will be upping their expectations of traffic, according to Tina Hovekamp, interim library director.
"My feeling is that the presence of [an additional] residence hall may increase business in our library, especially during evenings and weekends, which is wonderful," Hovekamp said.
The library is a central part of the campus and an increase in students on campus puts greater importance on that, according to Hovekamp.
"Having students on our campus beyond their daily class meetings creates more of an environment of commitment to a campus community, in which the library is certainly a central part," Hovekamp said.
Typically, students who live on a college campus are more likely to access services such as the Barber Library, Hovekamp explained.
"The problem with community college student populations often is that student experiences mainly come from the classroom, since these students have very little time to spend on campus, even for study time," Hovekamp said. "Barber Library offers a beautiful, welcoming place for students to meet and study that we hope those residing in the halls will be able to fully take advantage of during all library hours."
Mazama gym
Mazama gym staff are already meeting to discuss how the residence hall will affect Mazama gym, according to Julie Downing, chair of the COCC Health and Human Performance department.
"In the plans that were created for the new residence hall, there is no allotment for a fitness area within the residence hall," Downing said. "This is mostly due to budgetary constraints within the planning process."
The new residence hall will be able to house 330 students, and even if 20 percent of the students utilized Mazama gym, that would by 65 students, Downing said.
"I would anticipate that we would extend hours and hire more people," Downing said. "There has also been discussion about possibly creating a larger space to accommodate for more students."
One of the ways that has been discussed to help create more space for gym users is to combine the classrooms 101 and 102 into an additional workout space, according to Downing.
"Larger universities have a specific building for recreation and one for recreation classes," Downing said. "Because we don't have that, the general use gym and HHP classes are all in the same building."
Administration is seeking to be proactive in the planning for how to adjust Mazama gym to accommodate the residence hall, according to Downing.
"Because we are starting to look at it now, we will have sufficient time to put things in place," Downing said.
Molly Svendsen
The Broadside
[email protected]