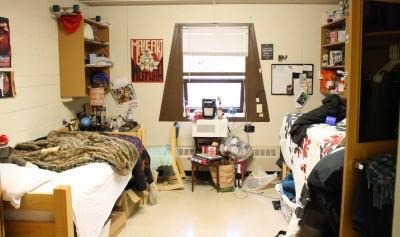 While there are perks to living on-campus, the price tag often cannot compete with off-campus living.
Student housing at Central Oregon Community College is currently $8,680 for a nine month school year. This cost includes a furnished, shared double room, meals and most utility coverage. However, that does not mean living on campus is the best deal, according to Paul Wheeler, director of Residence Life at COCC.
"We don't have comparative numbers between on-campus and off-campus housing," Wheeler said. "But I do think it's possible for some students to find more affordable housing off-campus."
Students looking to share an apartment off-campus could find several alternatives. Splitting rent and utilities can be a viable solution to minimize costs, according to the Central Oregon Rental Owner's Association average monthly rental costs. As of 2011, the association found the average rental costs for a two-bedroom rental unit in Bend averaged $615 per month. The average cost for a two-bedroom duplex was slightly higher at $704.
For students sharing an apartment, that would bring the average monthly rental costs down to $308 per person. That can be compared to an average monthly $961 room and board fee, or a monthly $529 room fee, at Juniper Residence Hall.
Local apartments can be cheaper than this price tag, according to Henrietta Lindsey, Bend property manager for Fox Hollow Apartments.
"We charge $580 for our upstairs apartments, which are two-bedroom, one-bath," Lindsey said. "For downstairs apartments, it's $530."
But the lower cost does not compensate for on-campus amenities, Wheeler explained.
"Even if you have to share that space, the rent and other utilities you have to pay with an apartment, you're splitting," Wheeler said. "If you're looking at the residence hall, you may not want to live in the building, but you're only going to have to take care of you."
Students living off-campus might have to look at several additional costs. While the initial price is cheaper, it does not include the cost of food, some utility services and transportation. Housing in Bend or Central Oregon is also harder to get into, according to Lindsey.
"We would usually encourage people to come in [to Fox Hollow Apartments]," Lindsey said. "Right now, though, there's no space."
The lack of available housing is starting to become a Central Oregon trend. In Fall 2013 the average vacancy rate in Deschutes County was only 3.7 to 3.2 percent, according to a New York-based real estate research firm, Reis. The same firm found that while some Central Oregon apartments have lower prices, the average cost is going up. While the firm found the average cost to be $690 a month in 2012, the price has now risen to $704. And according to a year-long study by the Central Oregon Rental Owners Association, Central Oregon only had a one percent vacancy rate in 2013.
While trying to find an off-campus apartment may be a difficult process, sometimes the best option is just staying at Juniper Hall, Wheeler explained.
"I think the sacrifices [students] might have to make to live off-campus sometimes outweigh the benefits," Wheeler said.
Students living in Bend instead of Juniper Hall may not be able to experience the same satisfaction level with their choice, according to Wheeler.
"I don't think it's just as easy as comparing apples to apples," Wheeler said. "It's hard to put a dollar amount on meeting people, interacting with people, being able to have your bathroom cleaned for you, your ability to just walk out of your door and interact with 100 other people."
The new residence hall, slated for completion June 2015, will have a higher price than the current cost to stay at Juniper Hall. For some students, that might not make COCC living feasible. But living on campus still has benefits. Students who do choose to stay have access to public computers, TV and game rooms, facilitated activities, and available staff 24/7.
Looking at the future, whether or not a student decides to stay in a resident hall depends on their priorities, Wheeler said.
"If you're looking at strictly dollars, you can go off-campus and find things that are dollar-for-dollar or more affordable," Wheeler said. "But it's weighing what's more important to you."
Junnelle Hogen
The Broadside
[email protected]