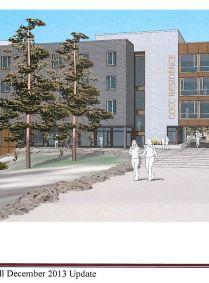 The campus will have a bigger, better residence hall housing over 300 students by June 2015. The Central Oregon Community College Board of Directors made the final approval for construction for a new residence hall on Jan. 22, and it is scheduled to break ground April 24.
This is the culmination of more than a decade of talk, planning and possibilities, according to Dr. James Middleton, president of COCC.
"The college has been formally and informally looking at student housing for 15 years," Middleton said to the board of directors on Jan. 22, "but the board has never made a definitive yes or no on the project."
Middleton put his support behind the project, citing student success in residence format.
"Data shows students in student housing do have a higher success rate due to better organization," Middleton said. "We'll be able to bring in foreign exchange students as well."
The board was in unanimous agreement about the construction, with members praising the fact that the design team was able to stick to a guaranteed maximum price of $15,565,910.
"Ever since I joined the board in 2007 I've wanted student housing," board member Charley Miller said in the meeting on Jan. 22. "It's a very challenging decision in this environment, when you talk about declining enrollment, but we've got a healthy establishment. …You're never sure, but you move forward and you never look back."
Board member Joe Krenowicz believes this new project will bring residence from the background to the foreground of the COCC experience.
"Student housing is a major component in our learning package," Krenowicz said. "Those students in Madras will probably move down here."
Conservative projections estimate that the building's occupancy rates will be 88 to 95 percent, Middleton said.
COCC is one of the four community colleges in Oregon with student housing, according to Alicia Moore. It is part of a trend of almost 400 community colleges across the United States with student housing, according to the National Center for Education Statistics.
"Anecdotally, as I get info, I don't think this makes us unique," Moore said. "It seems housing projects [at community colleges] range from 50 to 500."
Kurt Haapala, principal architect in charge of the project, detailed the building's elements to the board. The design features informal lounges, study areas, a community kitchen, and three-story mezzanines with "very gracious views."
"It'll be divided into ten communities of 33 students," Haapala said. "This is an important piece to keep."
Haapala told the board the housing had been designed with student success in mind.
"It's about creating opportunities for student engagement," Haapala said. "We want a building that encourages that."
Scott Greenstone
The Broadside