Madras may be small, but this term, it's seeing more growth than ever. Central Oregon Community College's Madras campus recently reported record-breaking enrollment: At the start of winter term, 201 students are already signed up for classes, which is the largest number since the start of the branch, according to Courtney Snead, Madras campus coordinator.
Gina Ricketts, the Native American program coordinator for COCC, believes the high numbers are partly due to an increase of students from the Confederated Tribes of Warm Springs.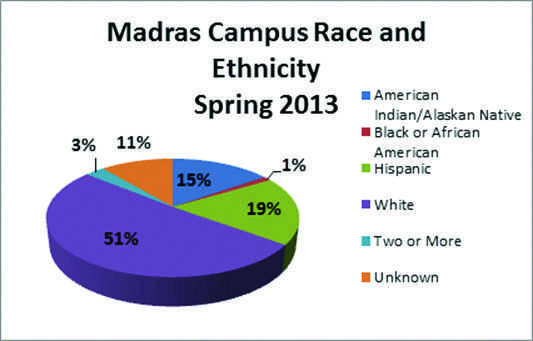 "[The Madras campus] is a twenty minute drive rather than an hour drive from Warm Springs to Bend," Ricketts said. "So that means that all those students can just stay in Madras. Which is a huge help in time, in gas money, in scheduling and everything."
The convenience is attractive to more than the students from Warm Springs. The campus fills a need for people all around Jefferson County, said Snead.
"I think for a lot students, transportation is a challenge," Snead said. "And many of them are balancing home and work and school. So to be able to take classes close to home is a definite help."
Looking back at the initiation of the branch, COCC's Madras presence has seen continued growth. When the campus opened in the fall of 2011, 91 students were enrolled. Last quarter, 184 students signed up for classes. And as of winter quarter, there was a 10.4 percent increase.
Part of the upward trend is also due to academic programs. The campus is continuing to expand the classes available, according to Ricketts, who is also on the Jefferson County Education District Board.
"At the Madras campus right now you can get eighty percent of your AAOT [Associate of Arts Oregon Transfer degree] completed," Ricketts said. "That means that for eighty percent of their classes, [students] can stay here."
Starting this quarter, the Madras campus has added more classes necessary for students to earn their degree. Courtney Snead, the Madras campus coordinator, thinks this has already evoked a positive response.
"This is the first term that we're offering an arts and letters class," said Snead. "And so for the art class we have, Art 131, it's the first time we've offered it, and we've got five students on the waitlist. That's the largest waitlist we've ever had."
For the future, Snead is working within the branch to continue the trend of expansion, both with students and classes available. Her hope is to allow those enrolled at the Madras branch to finish their AAOT degrees on campus.
"The only classes that are really missing are science classes," Snead said. "So once we get some of those scheduled, that will bump us up to 100 percent."
Meanwhile, Snead thinks the feel on campus will continue to interest new students. The Madras campus can boast a large diversity of ethnic backgrounds, with significant percentages of Hispanic and Native American nationalities participating. Also, Snead hopes the smaller feel of the campus will continue to foster a community perspective.
"I try as much as I can to get to know the students really well, so everyone feels really comfortable," Snead said. "I think that really helps students want to come back. I think we'll continue to see Madras retain and then bring on students because of that atmosphere."
Junnelle Hogen
The Broadside