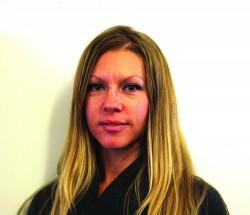 Amber Ruedi only began classes in March and she's already helping choose the new college president, raising awareness of discrimination, and being the end-all voice for students. Ruedi was hired on Nov. 12 as director of student affairs with the Associated Students of Central Oregon Community College.
As director of student affairs, Ruedi will be the student link to administration and the student government's voice to students, according to Taran Smith, student activities director at Central Oregon Community College.
"They are the voice of the students to the college and the voice of students throughout the college as well," Smith said. "They're making sure their voice is heard by administration."
Ruedi was hired on the heels of the termination of Kelly Huskey, this year's elected director of student affairs, who was removed from the position in August for breaching college policy.
When hiring for this position, ASCOCC looked for someone with institutional knowledge, according to Smith.
"How the college operates, who the admins are and their roles and responsibilities," Smith said. "If someone has a parking complaint, Amber would know who you go to."
Ruedi has a grasp on the gears of administration from her work study position in Campus Services and her role in the presidential search committee, where she represents students in the crucial decision of who the next college's president will be.
"She brings a wealth of attributes," Smith said.
For Ruedi, who was heavily involved before she applied, director of student affairs fits right in with her goals.
"I want to bring awareness on campus," Ruedi said. "Everybody should be getting involved. …I was working on this prior and this just fits in."
Ruedi is most passionate about raising awareness for discrimination on campus. Ruedi's 16-year-old son has developmental delays and the mentality of a ten-year-old, and he is made fun of often. Only weeks ago, he came home with lacerations on his ribs from getting beaten up.
Ruedi's brother also had developmental delays, so she's no stranger to fighting discrimination. Ruedi knows that discrimination of all colors is happening out of the public eye at COCC.
"We know it's happening, but we don't sit there and see it," Ruedi said.
Ruedi sits on the diversity committee at COCC, which coordinates trainings for faculty and students like the Safe Zone training and works to make every student at COCC feel welcome.
"I want to get involved with the entire campus," Ruedi said. "Students, staff, faculty."
Ruedi has always made herself an integral part of whatever environment she's been thrown into.
"That's just who I am," Ruedi said. "I've always been an actively involved."
Scott Greenstone
The Broadside