Juniper residence hall is emptying out for the holidays, and Davis Kellar has nowhere to go.
During Thanksgiving and winter breaks at Central Oregon Community College, many out-of-area students with no family nearby and no money to travel will have to room with friends or stay in hotels.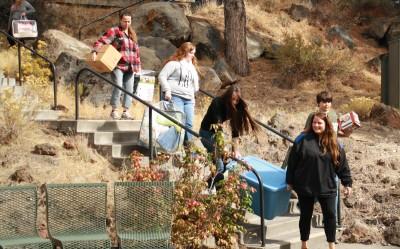 Kellar is originally from Australia, and flying home to spend the holidays isn't feasible. He has family in Salem, but they're busy. Juniper hall is currently housing students from as far away as Alaska and Pennsylvania.
"All my family in Salem already had plans, so they'll be gone staying at other people's houses," said Davis Kellar, a student originally from Australia. Kellar has been able to make plans to stay with a friend for the holidays.
"It's a holiday, and you're being put out of your home with no place to go," said Chris Ogren, a Juniper resident from Yreka, California. Even if students were financially able to travel home, it is still not always an option for other reasons.
"Some people have to work, so they can't go home," said Kellar.
But COCC doesn't have the facilities to house, feed, or supervise students over the break, said Paul Wheeler, housing coordinator at COCC.
"For schools like ours, with our limited living environment, this is a typical policy," said Wheeler. "A lot of our staff go home during those periods, so we're not really set up to monitor students and keep supervision of them."
All students were made aware that they would need to vacate when they signed the residency contract, and they have been reminded of this periodically as the holidays draw closer, according to Wheeler.
The office of residence life is working to make sure no students are without places to stay during the breaks.
"We start communicating to the students around each of these holiday periods, reminding them students are required to leave Juniper Hall and find alternative housing arrangements," Wheeler said. "It's been a rare case where a student just absolutely has nowhere to go. …Typically we run into problems with Thanksgiving because it's only a few days."

Rosalinda Corning
The Broadside
Photos by Vera Holiday
The Broadside