Tiffany Hill felt isolated at University of Oregon, and it wasn't because she wasn't involved. Besides being a second-degree black belt at Tae Kwon Do and on the Dean's List, Hill is hearing impaired.
After transferring to Central Oregon Community College, Hill instantly felt more relaxed.
"People make me feel comfortable," Hill said through an interpreter. "I don't feel isolated."
Hill is now president of the American Sign Language club at COCC, a resource not only for deaf and hearing impaired students, but for students who want to learn ASL themselves.
"They tend to focus on issues that relate to the deaf community," Dave Hagenbach, club advisor and interpreter said, "but the real strength of all the clubs is to promote social gathering and getting together–promoting friendships."
Hagenbach is one of the club's advisors and an ASL interpreter. Hagenbach is one of five different on-campus interpreters who go to class with hearing impaired students and interpret for them.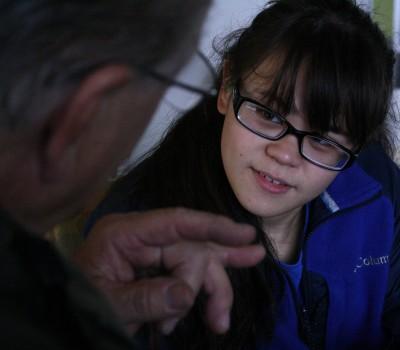 Interpreting academics can at times get a little tricky, depending on the classes students choose to take, according to Hagenbach. Sometimes words might even come up that do not have a sign in American Sign Language. Besides finger spelling the letters, interpreters might have to do some research to find the meaning behind a word, or they might work with the student to come up with a sign of their own. Some more intense classes might even take two interpreters to keep things fresh and moving.
Each interpreter and student becomes accustomed with each other's nuances and quirks. This is why Hagenbach often tries to keep the same interpreters with the student, depending on the class they are in.
"We have some really great interpreters here," Hagenbach said. "We're really blessed with that."
Building a comfortable community for deaf and hearing impaired students starts with treating deaf students like normal people, according to Hagenbach.
"Of course a regular old smile or writing notes on a little note pad works…just looking at the student as you would anyone else," Hagenbach said.
Caroline Nash
The Broadside