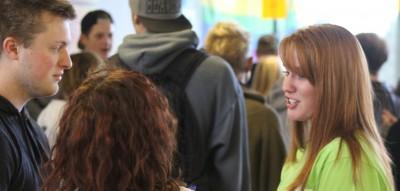 Central Oregon Community College is finding new ways to keep you in school. The college is currently investigating and planning to implement three new student success initiatives that target student retention, according to Alicia Moore, dean of student and enrollment services.
Funding for community colleges is changing, and now the state is looking at how schools reach certain outcomes in education.
"Money will be given to community colleges based on progress in the benchmark areas," Moore said.
To meet these requirements, the office of student and enrollment services gathered a list of strategies that they felt would work well at COCC and surveyed the school departments on which they would choose.
Culled from this process were three initiatives: First Year Experience Programs, dealing with keeping first year students, Early Deadlines for Enrollment Requirements, a plan to end "late enrollment," and Awarding Certificates and Degrees, a strategy that would sweep aside the need to apply for degrees and certificates.
Task forces have been assigned to each of these initiatives to find out how COCC could implement them, according to Shawna Elsberry, director of retention at COCC.
"The reason why you would put together a task force," said Elsberry, "is to look at this student success concept and give it lots of investigation. What would it look like at COCC? …And then come up with an implementation plan and recommendations."
Bobcat orientations, which attracted 618 people at all COCC campuses at the beginning of fall term, was part of the First Year Experience initiative, Elsberry said.
"Some schools have been doing FYE for twenty-something years," Elsberry said. "We're looking at other universities and seeing what the hiccups were."
Moore feels confident that the initiatives COCC has chosen are the right ones, and with good reason: This year, when the annual Community College Survey of Student Engagement named their "top ten best practices" in regards to student initiatives, all three of the initiatives COCC chose were included.
Moore believes that these initiatives are helping to usher in big changes statewide.
"For a lot of years, community colleges were left to their own devices," Moore said. "Now there's an infrastructure. …These make sense for COCC."
Scott Greenstone
The Broadside