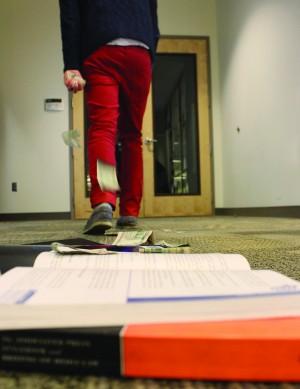 One out of every ten students you see is not in class for the degree.
On average, ten percent of students drop all of their classes at Central Oregon Community College after receiving their financial aid money each term, according to Kevin Multop, director of financial aid at COCC.
Depending on the individual's financial aid and academic history, penalties can range from losing good academic standing to a federal investigation.
Often, students have major events happen in their lives making college no longer an option. But there are also those "students" looking to take the money and run, according to Multop.
"It's always been a problem," Multop said, "You can never really know what somebody's intent is. You want to assume the best for students, but we know that there are students who commit fraud at COCC."
Currently there are two policies in place that help track student progress when receiving financial aid, according to Multop.
First is the Satisfactory Academic Progress policy which must be satisfied each term by the student receiving aid. If one does not maintain a cumulative grade point average of 2.0 and a cumulative completion rate of 66.7 percent, they may be placed on warning status. They will then have an additional term to meet these goals or the aid will be ended, pending potential appeals.
"It really digs a big hole," Multop said. "[A hole] they are going to have to dig themselves out of."
Also in place is the Return of Unearned Funds policy which stipulates that grants and loans may have to be returned if the aid is deemed "unearned."
"It could leave a balance on a student's account," Multop said. "This could block the ability to register for classes."
In order for aid to be considered earned, all classes must not be dropped before 60 percent of the entire term has passed. This is so students may still get some value out of the class, Multop said
While failure to meet these requirements will result in termination of aid, some individuals will transfer schools in order to continue receiving money in what's known as Pell running, said Multop.
Recently, the Department of Education has begun monitoring enrollment patterns and flagging any suspicious activities in order to counter this. Financial aid departments are now required to look closer at the transcript history of any flagged individual, Multop said.
"When the financial aid department suspects fraud going on, we are required to report it to the inspector general," Multop said. "We will get calls from the FBI every now and then regarding students."
Gordon Price, director of student life, recognizes that attending class merely for financial aid is a concern, though not regularly practiced.
"It's not uncommon, [but] it's not specific to COCC," Price said. "With the nature of community colleges and open enrollment, you are always going to have some of that."
Price, however, remains optimistic that exposure to education will have lasting effects on individuals considering such actions.
"My hope is that once you get students in the door, those two weeks might spark something," Price said. "Give it a try, stick it out. You came up here for a reason."
Darwin Ikard
The Broadside