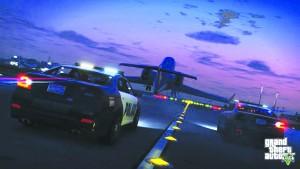 Who says robbing banks, stealing cars and going on crime sprees can't be fun?
Over the years, Rockstar has improved their Grand Theft Auto series. The game has changed its storyline with each released game. The use of three main characters allows players to interact with the whole map, making it possible to explore more in less time. The main goal is still to achieve as much "dough" as possible. Your character must go through six major heists in order to achieve success and wealth.
The series has also improved its graphics. Driving cars was made similar to that of racing games, so that it is simpler to control. Firing has been made easier as well. One can now aim at a target rather than shooting and hoping for a kill.
Though the graphics have greatly improved, falling or tripping still looks as if it belongs in the 1990s. Maybe producers will improve that next, though the terrible graphics in falling tend to bring a small amount of humor towards the game.
The game takes place in a fictional city known as Los Santos, which was modeled after Los Angeles. The producers have modeled the city almost perfectly, capturing every essence of the metropolis as a whole. Compared to the first game, the scenery in GTA5 makes a huge difference in how gamers view and play the game.
Opening the game, your character is seen with two others robbing a bank. Nothing unusual for action packed games, so what makes this game so unique? Well, for starters, this game is played in the third person, allowing the player to better interact with everything seen in the game. Not only this, but the game allows any basic fundamentals a real person would want to do. You are able to play games, watch television, alternate clothes, talk on the phone, and naturally, drive cars.
This game may seem like it is easy and that anyone could play it, but the game rating is set for M, for Mature. Which, in playing, is quite understandable. The game uses foul language, crude humor, violence, and partial nudity. This is not a game recommended for children, but rather for adults. Adults who remember the first GTA, and who still love to see the game grow.
It brings missions, goals, real-life situations, and corruption all in one. It may only be a one player game, but online, let the real chaos begin. This game is entertaining for all adults.
Courtney Damon
The Broadside