Is your student council really looking out for your best interests?
The Associated Students of Central Oregon Community College meeting on May 22 suggests they may not be.
During the meeting, council members discussed areas from which they could pull money, partially to dedicate more funding to council participation in the Oregon Student Association. In line for the chopping block were the discounted student bus passes and future on-campus childcare. Fortunately, those areas were spared in the long run, but other programs weren't so lucky. The COCC garden, branch campuses and Summer Training to Revive Indigenous Vision and Empowerment are just some of the areas that lost funding to the belly of OSA membership.
Membership in OSA is valuable to an extent, because it is a solid organization that advocates for student issues. However, ASCOCC isn't paid to advocate for students statewide, they're paid to advocate for COCC students. When they take away funding from COCC programs and programs that benefit future COCC students in our area, they are failing at their job.
What it really boils down to is rubbing elbows with people like State Treasurer Ted Wheeler makes certain council members feel important, and students are footing the bill for them to play politician at the capitol. Do you think that's a little harsh? At the May 22 meeting, ASCOCC decided to donate a used printer from the ASCOCC Redmond office to the Veterans Center, rather than give them funding for a new one. In that same meeting, the council voted to buy new iPads which are strictly for council use at Oregon Community College Student Association and OSA meetings, because apparently new toys are more important than basic resources for student veterans. Then again, ASCOCC probably won't miss that printer at the Redmond campus, considering they'll be spending less money on the branch campuses– once again, in the name of OSA.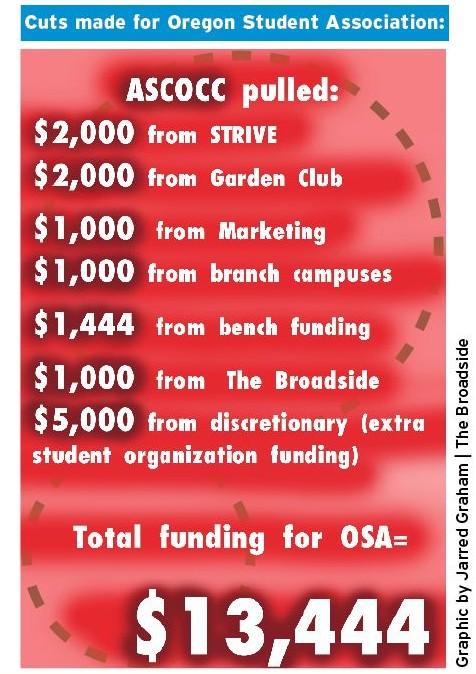 ASCOCC's involvement in OSA seems to be more about a sense of self-importance than an actual desire to advocate for students. If they really cared about advocating for students, they would not entertain the idea of pulling funding from on-campus childcare, when one of the most immense challenges community college students face is balancing parenting and school work. If the council's priority was students in Central Oregon, they would not deduct from STRIVE, a program which helps Native American students get on the path to college.
ASCOCC has been allowed to run rampant with student fees long enough. There is no reason for ASCOCC to operate under a different policy from other community colleges in Oregon. It's time for the college to step in and remove student fees from the control of ASCOCC, and instead let them be governed by the college and an unbiased student fee committee. Until the college does this, students will always be subject to career "politicians" who value their own interests over the student body.
With that, I conclude my final editorial for The Broadside. Well, thanks for having me.