A team of six students left Central Oregon and crossed the Columbia River, visiting Oregon's neighbor to the north, to participate in the annual Mother's Day Mount Saint Helens climb on May 11.
Cascades Adventures facilitated the trip, led by Alex Scolatti and Sarah Jensen, for Central Oregon Community College and Oregon State University-Cascades students.
After camping for one night in Marble Mountain Snow Park, the team woke at 2 a.m. to begin the hike in the dark. Carrying snowboards on their backs, as well as full avalanche gear, the group emerged above the treeline after an hour of hiking, and the lights of Portland could be seen to the south. A trickle of other climbers were seen illuminated by headlamps.
After another thousand feet of vertical hiking, the group stopped to reassess the weather, as the morning light revealed the summit to be "socked in". Two team members headed back to camp and four continued on to the summit.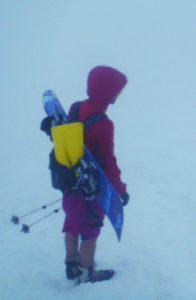 As the weather quickly moved in, wind, rain and low visibility worked against them they climbed on for 3,000 feet. The group reached what appeared to be the summit: a sudden drop into a white abyss. The climbers spent a total of four minutes at the top, before the wind and cold began to take a toll.
Climbers strapped on their boards and began a quick descent. As they entered the trees, they were pleased to find snow covering most of the trail, so they were able to continue the ride back to camp.
Sopping wet, the students took down camp and returned to Bend. Although they were unable to get the view they hoped for at the summit, they were one of the few teams that decided to fight through the elements and complete the Mothers Day tradition.
–Rhyan McLaury
The Broadside
(Contact: [email protected])