It's time for students to make their voices heard.
On May 13 the polls will open on Blackboard and Central Oregon Community College students will have until May 15 to vote in the three elected members of the student council. In order to be eligible to vote in the elections, according to Gordon Price, the director of Student Life, students must have taken at least one credit class in either the winter or spring term of 2013. There were 7,598 students enrolled at COCC during winter term and 7,074 enrolled in spring, according to Alicia Moore, the dean of Students and Admissions at COCC. Price encouraged students to take the time to vote.
"You're voting for representatives of the student body," said Price. "ASCOCC is responsible for the fees that you pay…you have a responsibility to elect the people you want to represent you."
Last year's turnout
How many students will actually participate in the voting process? If last year is any indication, not many.
The 2012-13 ASCOCC elections had a lower voter turnout than expected, according to Price, in an interview with The Broadside that was published in June 2012. Out of 10,000 eligible COCC students, only 361 attempted to vote in the elections. Only 340 of those votes were actually counted, because the other 21 attempted voters did not complete their ballots correctly.
The 340 votes was a significant decrease from the previous year. In the 2011-12 ASCOCC elections, 890 students voted for their candidates. Price credited the decrease in student voters to the fact that the 2011-12 council was more "mellow" than the previous council. There was less controversy, and so less attention was drawn to the elections.
Students encouraged to apply for appointed positions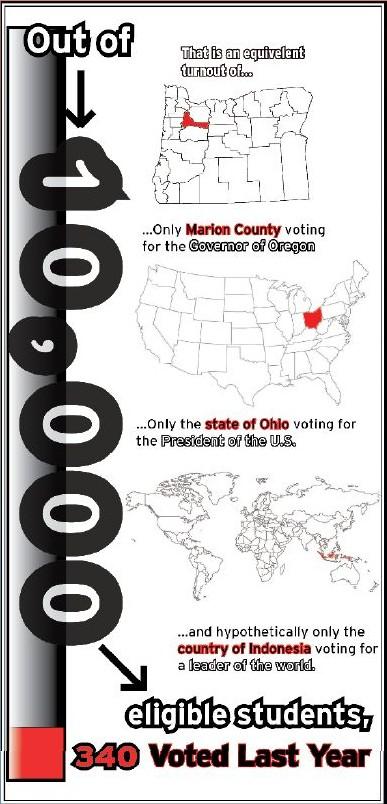 If you missed the deadline to turn in election packets, you're not out of the running yet.
Only three of the six ASCOCC members are elected by the student body. The other three positions are appointed by the elected members of the council.
"Students need to realize they still have the chance to run," said Price.
Applications for appointed council members are due May 20 and must be turned into the Student Life office by 4 p.m.
Why should you vote?
Your money is being spent. Every student enrolled at COCC pays an additional $1.50 per credit. That money is spent and allocated by the ASCOCC.
It's your college experience. ASCOCC helps shape the college experience for COCC students. The clubs the council chooses to promote, the events they choose to fund, and the activities they host determine what your campus life is going to be like each term.
COCC is your community. You have the same civic duty to vote in college elections as you do in local and national elections.
Now is your chance to make a change and have a say. If you want to see changes in the council, this is your only chance to make those changes happen. This is your chance to influence the leadership of your college.
Show the candidates that you are active and interested. Voting shows your future council that you are active in college politics and care about how student funds are managed. It will encourage them to do a better job and listen to your voice.
It's good practice for the future. College is all about learning. Student elections are a chance to practice researching political candidates and using your vote to impact the outcomes for a community.
–Cedar Goslin
The Broadside
(contact: [email protected])