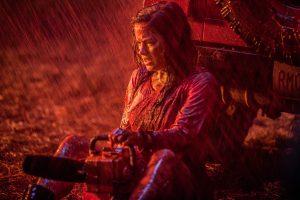 Ads claimed it to be the "scariest movie you will ever see."  As long as audiences continue to equate graphic violence with horror, the recent remake of The Evil Dead may live up to that assessment.
TriStar Pictures presents a new take on the cult classic that made Sam Raimi and Bruce Campbell names in entertainment.  This time around the director, Fede Alvarez, pays homage to the original with plenty of over-the-top mayhem.
The plot is a familiar one:  five friends go deep into the woods, to a remote cabin, and inadvertently summon demons who mercilessly try to kill them.  The 20-something victims have traveled far from civilization to help Mia (Jane Levy) kick her nasty drug habit.  Evidently, the group attempted an intervention before with less-than-stellar results.  This time, they hope the isolation will prevent their friend from relapsing.
To make matters more interesting, Mia's older brother David (Shiloh Fernandez) is there, having been estranged from his friends and sister for some time.  Alvarez attempts to weave some heavy subject matter in the characters to heighten the drama, and for the most part it works.  Some of the lines seem forced, but really they don't have much time before the supernatural horror takes over.
As in the original, the source of evil lies under the cabin.  A book of demonic magic is discovered and read by the unsuspecting "scholarly" character.  This causes all hell to literally break loose, as one-by-one the characters are possessed by the evil forces, killed and used as puppets to slaughter the others.
The death scenes are fantastically graphic in their violent nature, including mutilation and dismemberment with rather convincing makeup.  Squeamish viewers will cringe at the sight of needles and nails being extracted from the human body.
The final 10 minutes are exceptionally bloody and change the ending from the original.
The Evil Dead is not for everyone.  It might come across as a bit too polished for full-fledged fans of the original, and too gritty for casual movie-goers. The acting is decent for what it is, which is a very campy story.  Fans of buckets-of-blood kind of films should get their money's worth.
–Noah Hughes
The Broadside
(Contact: [email protected])