Rain drops are falling
To join pond's cold dark water.
My tears will not dry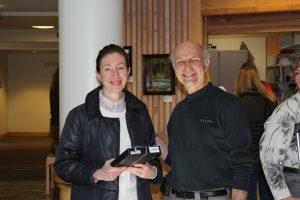 Homesickness inspired the haiku that went on to win the annual poetry contest.
The winner of the Barber Library Spring 2013 haiku contest was announced on April 17. Central Oregon Community College student Natalia Apalategui received a Kindle e-reader for best overall haiku, as library patrons enjoyed cake provided by the Cascades Culinary Institute.
The haiku was inspired by a feeling of homesickness.
"It was a rainy day, and I felt like I missed my family," Apalategui said.
She was born in Russia and moved to Bend two and a half years ago.
"I am happy because [winning] is a recognition of my English," she said.
This was the second year Barber Library has celebrated national poetry month, according to librarian, Tina Hovenkamp.
"Last year we had poetry readings, and this year's focus was on the haiku," Hovenkamp said. "We hope to keep this an annual tradition."
–Darwin Ikard
The Broadside
(contact: [email protected])